Exploring the Five Customer-Centric Habits
Necessary Qualities for Executives and Organizations
What are the habits that successful customer-centric executives share? Rob Thompson of CustomerThink has identified 5: Listen, Think, Empower, Create, and Deliver. We agree, and we add our Customers.com perspective on each of these important habits that should become part of every organization's DNA.
NETTING IT OUT
Customer-centric executive have developed habits that keep the customer at the core of their organizations' DNA. In an interview of Bob Thompson or CustomerThink.com, discussing an upcoming book due out this November, Dan McDade of PointClear, Thompson revealed the five habits he believes are commonly shared by these customer-focused leaders:
Listen
Think
Empower
Create
Deliver (to delight)
In this article, we expand on Bob's excellent observations, adding the Customers.com point of view.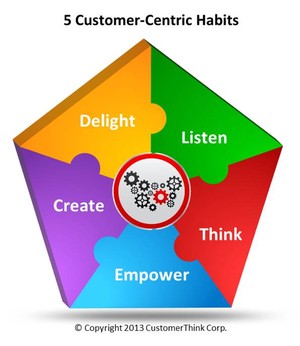 QUALITIES OF CUSTOMER-CENTRIC BUSINESS LEADERS
The Five Habits
Recently, I came across a fantastic graphic illustrating the 5 Customer-Centric Habits (see Illustration), as conceived by Bob Thompson, founder, president, and CEO of CustomerThink.com, an online community (of which I am a member) focusing on Customer Relationship Management, Customer Experience Management, and Social Business. Bob's thinking is very much aligned with the principles of Customers.com, putting the customer at the core of all that an organization does and offers.
In his upcoming book, The Five Habits of Customer-Centric Business Leaders (available in November on Amazon and through other publishing channels), Bob describes these habits. During an interview with Dan McDade posted on the CustomerThink site and in a YouTube video, Bob briefly talks about each of the habits.
"What are the behaviors that companies exhibit routinely—habits…it's not something you do once because you felt like it. It's something you do over and over again, and many times you don't even think about it."

~ Bob Thompson in YouTube Interview with Dan McDade
I take the liberty here of presenting what he says and then expanding on each habit from the Customers.com perspective.
EXPLORING THE FIVE HABITS
[Click to start YouTube video at this point in the interview.]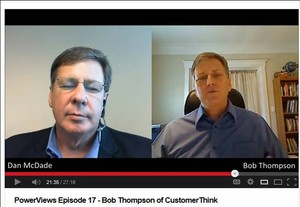 Habit 1: Listen
"Top reps…don't just depend on doing exactly what they said they wanted, although they'll certainly listen, but they dig deeper than that."

~ Bob Thompson in YouTube Interview with Dan McDade
DAN MCDADE: Bob notes the first habit is about listening to and really understanding customers—not only to what they are saying, but also to what their true needs are. He says top reps are continually digging deeper with customers.
CUSTOMERS.COM: Bob is very correct in pointing out that customers don't always tell you what they really want and need from your organization. And there's a number of reasons for this…
(Download the PDF to read the entire article.)
Sign in to download the full article
0 comments