Five Steps to Success in Designing a Customer-Centric Business
Chapter 1 – Customers.com 2.0
How do you ensure that customers love your brand, your company and your products? They will if you follow these five steps: 1) Focus on your end-customers; 2) Make it enjoyable for customers to get things done; 3) Measure what matters to customers, 4) Align your ecosystem to deliver customers' ideal end-to-end experiences; 5) Profit from customer engagement and loyalty.
NETTING IT OUT
How do you design a successful modern-day business? You start with customers; not products. You focus on what those customers want to do. If you design any organization (for profit or not for profit) from the customers' perspective, your organization will remain nimble and focused on customers' changing needs and market conditions.
As customers, we recognize when we're interacting with a company that really values us and our business. It's clear that everyone in the organization understands what we need and what's important to us. We also notice when we cross the boundary between the customer-centric brand we value and one of their partners who doesn't deliver the same kind of experience.
As customer-centric executives, we want to anticipate customers' needs and delight them with solutions they might not have thought of, yet they immediately love and value. We want our customers to bond with the enjoyable experience that we, and our partners, provide.
These five steps can empower you to design (or redesign) an organization that customers love to do business with. Taking these steps over and over again will continuously improve the viability of your business and help you grow a vibrant win/win ecosystem of employees and partners who all benefit from their engagement with your mutual customers.
HOW TO CREATE A PROFITABLE CUSTOMER-CENTRIC BUSINESS
Do you want your business to be a world-leader in brand loyalty, a best place to work, and to deliver profitable results with organic growth year after year? Do you want your organization to measure its success in terms of your customers' success? Here's a tried and true formula you can use to align your organization around customers' goals, deliver memorable brand experiences, and grow a profitable, well-respected, sustainable business. You'll also attract a vibrant win/win ecosystem of partners to amplify your brand and increase the value of your customer franchise.
5 Steps to Success
When I look back across 20 years of working with customer-centric executives in a variety of industries and think about my prescription, it's this:
Focus on your end-customers
Make it enjoyable for customers to get things done
Measure what matters to customers
Align your ecosystem to deliver customers' ideal end-to-end experiences
Profit from customer engagement and loyalty
1. FOCUS ON YOUR END-CUSTOMERS
Your business strategy starts with your end-customers. Who will use the products and services your organization delivers? Who will benefit from your solutions? Who will consume them?
Most successful start-ups begin with a target audience in mind, even before they figure out what product or service they want to offer.
Koko Fitness Focused on Baby Boomers Who Wanted to Get and Stay Fit
Koko Fitness focused on baby boomers who wanted to stay fit and healthy. That led them to develop their first product—the Koko Smartrainer®—an innovative strength training system. Although Koko has experimented with a variety of distribution models (selling to fitness clubs, physical therapy departments in hospitals, and franchisees), the core experience they offer was designed for the end-user—the person who wants to be stronger, fitter, and not have to think about how to achieve that goal.
Existing companies, with existing product lines, need to step back and refocus on their target users (or target a new set of end-users), and understand what those people want and need to do. That will spark new solutions to solve new problems.
5 Steps to Success in Designing a Customer-Centric Business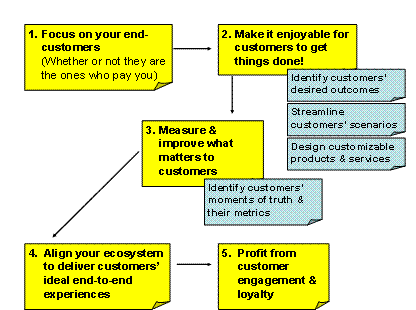 © 2010 Patricia Seybold Group
AIP Focused on Physicists Who Want to Publish Their Research
The American Institute of Physics decided to focus on physicists who are researchers and authors—people who need to have the results of their research acknowledged in a well-respected journal — rather than on the institutional librarians who purchase the journals. That decision led to a series of innovations, including AIP UniPHY, a social network through which physicists find and follow the work of potential collaborators as well as competitors.
Organizations that sell through channel partners often get confused about who their customer is. Insurance companies often design products that are easy for their agents to sell, but hard for beneficiaries to claim their benefits. Yet insurance companies that design policies that make it easy for beneficiaries to receive their benefits reap high customer loyalty.
Discovery Insurance Focused on Customers Who Want to Stay Healthy
Discovery SA is one of the largest health and life insurance companies in South Africa. Discovery's innovative Vitality program lets customers earn points, reap rewards, and lower their insurance costs by engaging in healthy activities, from preventative care to working out at a gym. Their policies are sold through agents to individuals and employers. But the policies are designed for customers to ...
Sign in to download the full article
0 comments