Freshdesk
Case Management, Knowledge Management, and Social Customer Service for SMBs
Freshdesk packages attractive and high value cross-channel case management, knowledge management, social customer service, and chat capabilities suitable for small, mid-sized, and large organizations. It competes with Salesforce's Desk.com and with Zendesk. Cloud-based customer service offerings enable faster and easier deployment than software systems you install and maintain in-house. But, your organization still needs to integrate this software with all your customer-impacting applications and processes.
We evaluate customer service offerings against our Evaluation Framework for Customer Service Software, which was updated in October, 2014. We've been evaluating customer service software solutions for two decades. This report will save you time and answer your questions.
Freshdesk is Freshdesk Inc.'s customer service offering. It provides case management, knowledge management, communities and collaboration, and social customer service capabilities across assisted-service, self-service, and social customer service channels. Freshdesk Inc. a Chennai, India based software supplier, introduced Freshdesk in 2011.
Freshdesk Inc. offers subscription licenses and cloud computing deployments for Freshdesk. Freshdesk's multi-tenant cloud computing environment uses the Engine Yard Platform, which, in turn, uses the Amazon Web Services infrastructure.
Freshdesk has a very large customer base, likely 50,000 customer accounts or more. Most are (very) small and mid-sized business, although Freshdesk lists some familiar brands and large enterprises among its customers.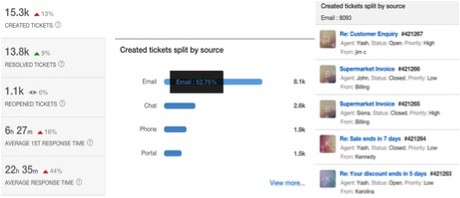 Freshdesk earns a mixed Report Card—Exceeds Requirements grades in Capabilities, Product Management, Case Management, and Customer Service Integration, Meets Requirements grades in Product Marketing, Supplier Viability, and Social Customer Service, but Needs Improvement grades in Knowledge Management, Findability, and Reporting and Analysis.
Freshdesk Help Desk In Depth Tickets Report
We recommend that you consider adding Freshdesk to your customer service application portfolio. Freshdesk's core case management capabilities are strong, its integration with external applications is excellent, and Freshdesk Inc.'s developers continually add new and improved capabilities on a regular basis...........more....
Members of our Customers.com Technologies' Advisory Service may download and read Mitch Kramer's full product evaluation.
Sign in to download the full article
0 comments