Getting the Most Out of Customer Visits
How to Observe and Capture How Key Business Personas Make Decisions
There are valuable insights to gain when visiting customers and observing how people do their jobs. Often, the result of observing customers is the creation of personas for whom offerings can be designed. But there is much more value to looking at personas in context: there is the specific context of the persona: the decisions that person has to make, the criteria upon which he makes the decisions, and the types of information that must be taken into consideration—but there is also the Common Context for that role and related roles to round out the picture. Here are some tips and techniques on how best to approach and maximize the value of visiting and studying customers and creating personas in context.
NETTING IT OUT
There are valuable insights to gain when visiting customers and observing how people do their jobs. If you study the behavior of the people in the roles for whom you are targeting solutions, and the contexts in which they do their jobs, you'll be more successful in developing useful solutions. A seasoned observer (even one who is not a subject matter expert in the field or the industry) can gain a full understanding of what the people in that role need to accomplish, the decisions they have to make, and the information upon which they rely to make good decisions. A perceptive User Experience practitioner will also observe the interactions among different roles as people work together to achieve the best results for their customers and their company.
Here are some tips and techniques on how best to approach and maximize the value of visiting and studying customers. What's in it for the customers being studied? You'll provide them with valuable feedback that will help them reinforce their core competencies and improve their practices. As a result, they will value their relationship with your company even more.
A Persona in Context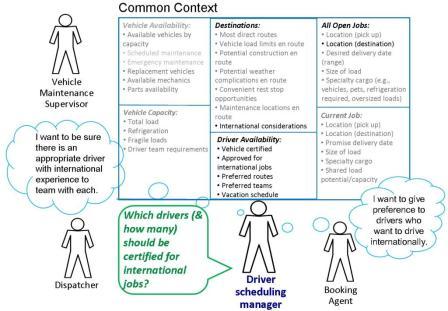 (Click on image to enlarge.)
© 2012 Patricia Seybold Group Inc.
1. This illustration highlights the dispatcher as he makes one of the many decisions that he faces every day: what vehicle and driver team to assign to a job. The cloud bubbles indicate factors that impact his decision. The Common Context is all the information that is used by the various roles represented. Those pieces of information upon which the dispatcher will base his decision are highlighted in bold.
ENGAGING WITH CUSTOMERS IN THEIR CONTEXT
User Experience Best Practices
We have discussed the importance of including user experience (UX) methods and practices throughout product development projects1 as well as customer co-design initiatives. And we have provided details on how to optimize telephone and in-person individual and group interviews.2
Now let's look at the additional insights that you can obtain by visiting B2B customers as they are doing their jobs.
Understanding the Organization and its Goals
Even if you provide offerings for a single role within an organization, you still need to understand how the entire organization runs. For example, if you are offering a reservation system targeted for a restaurant host/hostess, you need to understand whether the number of reservations impact how many servers and line cooks need to be available; if reservations are required; if parties of a specific size can only reserve at certain hours; and how, ideally, the restaurant would want to tie the reservation system into any point of sale system or back-office database.
Things that you should try to find out before approaching an organization about a customer visit include:
The overarching goals that your proposed offering can help achieve. (E.g., improved performance, reduced paperwork, fewer human errors, increased revenue potential, etc.).
The critical roles of the people who would be using the proposed solution, and how they fit in the organization.
Arranging the Customer Visit. Arranging a customer visit isn't as simple as making a phone call. To gain access to the people and information that you want, you need someone reasonably high up in the organization to grant the right permissions and make sure everyone will be available. Typically, the best way to find the right person is to go through your sales organization. The account rep will know who is in charge and have the authority. It can sometimes be difficult to get the sales person on board; sales reps are very protective of their accounts and don't want to rock the boat. You therefore need someone with clout at your end to make it clear that these customer visits are a priority, and members of the sales team are expected to provide access to the customer.
Once you are in contact with the right person at the organization, you should spell out what you hope to accomplish during the visit, what access and information you would ideally like to have, and what value you can offer the company in return.
What You Want to Accomplish. Explain the purpose of the visit: "We are working on a next-generation solution for emergency room registration personnel that will more easily allow them to capture a patient's information and communicate that information to the ER medical staff as well as flow the information into any back-end systems. We would like to spend time with some registrars, duty nurses, and accounts payable clerks to understand exactly what they need and how we can help." Be specific about what you are asking for. For example ...
***ENDNOTES***
1) See "How to Think About Your Customer Experience and User Experience Design Strategy," by Ronni Marshak and Patricia Seybold, June 23, 2011, http://dx.doi.org/10.1571/psgp06-23-11cc

2) See "Tips for Interviewing Customers, Partners, and Stakeholders," by Ronni Marshak, January 22, 2009, http://dx.doi.org/10.1571/htt01-22-09cc
***ENDNOTES***
Sign in to download the full article
0 comments