Groupon's New Consumer Programs
How Do They Benefit Consumers? And What Do They Offer Merchants?
Groupon is trying new programs to win the loyalty and wallets of existing and new customers. Groupon Now seems to have a lot to offer and doesn't change the business model or value proposition for customers. But does the proposed VIP program, which requires a yearly fee, offer enough to attract customers to join? And what's in it for the merchants? We propose some additional perks that would make paying to be a VIP more compelling.
NETTING IT OUT
Groupon is trying new programs to win the loyalty and wallets of existing and new customers. This article looks at two of these programs: currently available Groupon Now, and the beta program Groupon VIP.
There is a lot to like in Groupon Now, which provides value for both consumers and merchants. But the proposed VIP program doesn't go far enough to seduce customers into ponying up $30 to be a member. Even more, it doesn't appear to have any benefits for the all-important merchants that make up the Groupon value proposition. In fact, Groupon needs to consider all programs from both sides: the merchant side and the consumer side, ensuring that there is value and appeal for both.
Groupon Now Mobile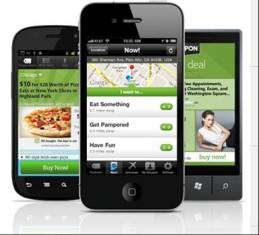 © 2012 Groupon
Illustration 1. Groupon Now is valuable to both the traveler, looking for deals wherever she may be, as well as for the impulse bargain hunter—"I think I'd like to eat out tonight."

GROUPON TODAY
On a Financial Rollercoaster
Groupon, which went public last November to much fanfare, has reported that revenue more than doubled in the last quarter. However, the company also reported a loss of $37 million in the same quarter. Groupon seems to be spending extravagantly to support its rapid growth. As a result, shares of the company stock lost more than 10 percent in a single day. Much of spending is on acquisitions. According to Forbes,
"After directing most of its acquisitions towards acquiring similar daily deal clones, Groupon's purchases have now shifted to buying tech start-ups that would add to its user engagement. After the Mertado and Campfire Labs acquisition, the most recent one was Adku, a start-up focused on building algorithms to optimize a user's online shopping experience. Getting a user to stick and buy more Groupons would be of paramount importance to Groupon in 2012, given that its mature North American business is already facing a decline in the number of Groupons sold per subscriber."
And, on February 28, 2012, Groupon acquired yet another company, Uptake, a travel site.
But the acquisition spree isn't the only money drain on the premiere daily deal web site provider. The market has become saturated with clones and variations-on-a-theme deal sites, and, even though Groupon is the iconic brand (much like Kleenex or Band-Aid, Groupon has become the generic term for a daily discount deal), the company is spending more and more to acquire the same universe of consumers and merchants as is the competition.
Daily Dealers (the People Who Buy Groupons)
It's important that Groupon truly understand exactly who its customers are. When purchasing Groupons (or any daily deal), you are making a commitment—if only to yourself. You are buying something that you need to use by a specific date in the near future to realize the value of the discount. So daily dealers (of which I admit I am one) plan ahead. We understand that we will lose out if we make too many or inappropriate purchases; we feel the pressure of looming deadlines; we try to be savvy and realistic about our purchased deals; we do our best not to overspend; but we often fail. I have spoken to many fellow Groupon-aholics who have shared the sad story of expired offers, high credit card bills, and diet busting behaviors (going out to eat several times a week in order to use the discounts that seemed too good to pass up). Many of us have had to learn to "just say no" to that really cool offer that, although half the price. is still over our budgets. So we are getting pickier about the deals we'll buy. We are slowing our ordering pace, waiting until we have used up our current round of Groupons before ordering the next round.
The company is trying several new strategies to address these concerns and keep us buying!
New Strategies to Acquire Customers
Last May, Groupon rolled out a new consumer discount program: Groupon Now. And, in recent news, the company is trying to create a paid loyalty program: Groupon VIP. Can these programs help the company engage new customers and increase their wallet share of customer spend? And what's the upside for the merchants, who are a vital part of the daily discount equation?
Let's look at what the new programs offer and whether they have the right combination of financial appeal to satisfy both discount seekers and the merchants ...
Sign in to download the full article
0 comments