How Amazon's Fire Phone Enhances Its Customer Ecosystem
Firefly Lets You Manage the "Internet of Things"
Amazon's Fire Phone provides a significant boost to Amazon's customer ecosystem. Mayday—24x7 customer service via video chat and screen sharing on your phone—sets a new bar. Firefly—the ability to capture an image, identify it, and take actions—puts control of the "Internet of Things" in Fire users' hands. Developers will extend Amazon's ecosystem by providing custom actions customers can take using their Fire phones. The Fire Phone is not just about shopping. It's about helping customers get things done. Customers who don't trust Amazon with the intimate details of their lives won't be using this phone.
NETTING IT OUT
In early 2012, I introduced the concept of a "customer ecosystem"1 and dubbed it "the Next Big Thing." A customer ecosystem is a business network that's aligned to help customers get things done and manage their stuff. They can be brand-centric, but not brand-unique. Customer ecosystems self-organize around things that customers care about. They are customer-driven in that customers get to decide what activities and resources they need, who they'd like to have as suppliers, and what constitutes success.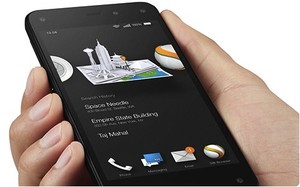 In early 2013, I analyzed Amazon's business as a Customer Ecosystem.2 In that article, I mentioned that Amazon's expected smartphone would accelerate Amazon's ecosystem trajectory. In October, 2013, I reviewed Amazon's "Pay with Amazon" service3, pointing out that the only thing missing was a mobile phone version for Pay with Amazon to become a ubiquitous e-wallet.
Now Amazon has announced its smartphone, the Amazon Fire Phone. How critical is this device to the success of Amazon's customer ecosystem?
AMAZON'S CUSTOMER ECOSYSTEM: MAKING IT EASY TO GET THINGS DONE
Amazon Fire Phone Is a Necessary Ecosystem Interface
Since Amazon announced its smartphone on June 18, 2014, much of the early criticism of the device has revolved around the fact that this phone clearly makes it easy for customers to shop on Amazon.com. "Why," pundits wondered, "would someone buy a phone that makes it easier to shop?" I believe there are two reasons...(more)
(Download the PDF to read the entire article.)
**ENDNOTES**
1 The Next Big Thing: Customer Ecosystems: Six Secrets for Designing Business Networks Aligned to Help Customers Get Things Done, by Patricia B. Seybold, January 12, 2012, Customers.com Press, http://dx.doi.org/10.1571/bp01-12-12cc
2 Amazon's Next Moves: It's a Customer Ecosystem Poised to become an Increasingly Important Part of our Lives, by Patricia B. Seybold, January 3, 2013, Customers.com Press, http://dx.doi.org/10.1571/vs01-03-13cc
3 Why Pay with Amazon Is a Big Deal: How Amazon's Payment Services will Impact Mobile E-Wallets, by Patricia B. Seybold, October 25, 2013, Customers.com Press, http://dx.doi.org/10.1571/pr10-24-13cc
**ENDNOTES**
Sign in to download the full article
0 comments