How to Offer a Little Extra to Delight Customers
My Most Recent Favorite Customer Experience Practices
Go beyond providing good customer experiences to surprising and delighting people with unexpected customer service. Here are few of my favorite things (in customer experience). I present stories about how Amazon.com, Trader Joe's, CVS, and BoltBus surprised and delighted me and my cronies. I then take these B2C examples and extrapolate how B2B organizations can achieve the same high level of customer experiences.
NETTING IT OUT
Some companies are going above and beyond standard "good" customer experience practices. Some of my favorite recent examples come from my personal experiences as well as from stories sent to me by friends and colleagues. Here are some great examples of companies that surprised their customers with that added bit of CX excellence. Included are:
Trader Joe's return policy
Amazon.com's empowerment of customer service representatives
CVS's demonstration of the value of being a loyal customer
BoltBus's and Amazon.com's proactive approach to acknowledging and making up for bad customer experiences
Although all of these are B2C examples, we offer advice to B2B companies on how to delight their business customers with similar excellent experiences.
Trader Joe's Cool Refund Policy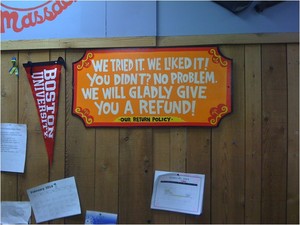 © 2014 Trader Joe's
THESE ARE A FEW OF MY FAVORITE THINGS (IN CUSTOMER EXPERIENCE)
Usually, when writing an article, I get an idea and then go out and do research to find—or build on—examples that support my point of view. But, in the past few months, these examples have all "found" me, unsolicited. Each one demonstrates a customer experience best practice that I strongly advocate, and have written about before. So let me share my examples of:
Making it easy for customers to try more that your brand offers, and making it just as easy to return it if they aren't satisfied.
Empowering customer service representatives so they can nurture relationships and exceed customer expectations.
Demonstrating the value the customer is getting by being loyal.
Taking responsibility for things that go wrong and remedying the situation.
All of the stories here are B2C (business to consumer), but there are lessons to be learned for B2B organizations, as I will point out.
FAVORITE EXAMPLE OF HOW TO GET CUSTOMERS TO BUY MORE PRODUCTS FROM YOU
Trader Joe's Makes It Easy to Try Things Out
All retailers have refund policies, many of which are very easy to use—simply bring or send the unwanted merchandise back and get a full refund. Some make it more difficult by requiring original packaging; some make it costly to return by charging a restocking fee. But Trader Joe's, a specialty retail grocery chain in nine states (California, Arizona, Nevada, Oregon, Washington, Massachusetts, New York, Connecticut, and New Jersey) goes an extra step with its refund policy. The grocery chain happily refunds customers for consumables that they have, well, consumed. Posted prominently in each store is a large sign that says, "We tried it. We liked it! You don't? No problem. We will gladly give you a refund!"—even though you have nothing to return…just a receipt and your word that you didn't like it. By doing this, Trader Joe's very effectively encourages customers to buy unfamiliar items (many of which they will like and buy again) thus increasing its wallet share of a consumer's food budget.
TraderJoe's.com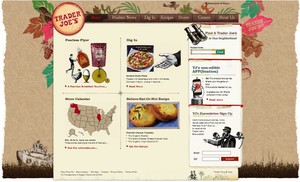 © 2014 Trader Joe's
Other merchants, most notably some higher-end restaurants, often have a similar policy, discounting or not charging for a meal that wasn't enjoyed or offering a free substitute food item. But this is by far not a universally accepted policy. If you don't like a product that you've already used up, tough. Your only recourse is to not buy it again. That's what makes Trader Joe's "try it, you might like it" return policy one of my favorite customer experience practices...(more)
(Download the PDF to read the entire article.)
Sign in to download the full article
0 comments