KANA Experience Analytics
Powerful Analytics, Tight Integration with KANA Service Experience Management
Delivering customer service on the social web, what we call social-service, is a logical extension of self-service and assisted-service. KANA Experience Analytics is a social-service product that falls into that sweet spot, monitoring, analyzing, and acting on customer conversations on the social web and customer conversations on internal channels. Our in-depth product evaluation looks at this offering whose key strength are the analytics that categorize customer conversations and classify their sentiment.
NETTING IT OUT
KANA Experience Analytics is the social-service offering from KANA. The product monitors, analyzes, and acts on customer conversations on the social web and on internal channels. KANA Experience Analytics tightly integrates with the Experience Flows of KANA SEM, bringing the voice of the customer into SEM's process-oriented approach for customer service.
Organizations license KANA Experience Analytics for cloud deployment. To date, KANA claims that 55 customer organizations have licensed KANA Experience Analytics.
KANA Experience Analytics earns good grades on our Customer Social-Service Report Card—exceeds-requirements grades in analytic functionality and meets-requirements grades in customer service integration and viability.
KANA Experience Analytics best fits customer social-service with these characteristics:
Powerful analytics that automate the categorization of social posts and internal messages and their sentiment
Tight integration with KANA SEM
High value
Support for English and Latin/Romance languages
If these characteristics match your organization and the products that you offer, then KANA Experience Analytics can be an excellent choice for the software to help you deliver excellent customer social-service.
Notification Email Sent by Emerging Topic Alerts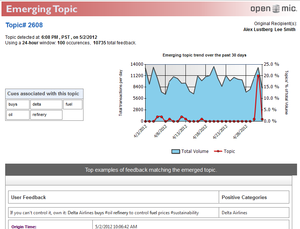 © 2012 KANA Software, Inc.
Illustration 4. This illustration shows an example of the email sent to analysts when alerts are triggered.
CUSTOMER SERVICE
Answer Customers' Questions and Solve Customers' Problems
Customer service products help you deliver answers to your customers' questions and solutions to their problems through their case management, knowledge management, account management, and social network management capabilities, capabilities that support self-service, assisted-service, and social-service channels. These products help answer and solve customers' questions and problems about products and services, business policies, processes, and practices, or about the elements of their customer relationships such as accounts, bills, orders, and contracts.
Customer Service on the Social Web—Customer Social-Service
These days, customers spend so much of their time online on the social web. Some of that time is spent on the products that they use in their lives or that they use to do their jobs. They want help from their peers to learn about those products and the products' suppliers, to get advice on purchasing decisions, and to get answers and solutions to questions and problems in installing and using the products. In other words, customers get customer service on the social web.
It certainly follows that businesses should deliver customer service to the social web. How? They become aware of customer conversations about their businesses and about their products and services. They should try to ensure that the answers and solutions that customers receive from their peers are correct. They should also deliver the answers and solutions themselves, directly to customers using the social web as a new customer service channel.
Social-service products help businesses deliver customer service to the social web. They are products that provide these capabilities:
Monitor customers' conversations within the volumes of posts on across the social web
Find and identify conversations containing questions and problems about suppliers' businesses, products, and services
Route the posts containing questions and problems to traditional customer service systems and processes for appropriate handling
Facilitate interacting with the customers who post those questions and problems to deliver answers and solutions to them via the social web
KANA Experience Analytics 12R1
KANA Experience Analytics is KANA's offering for monitoring, analyzing, and acting on customer conversations on the social web as well as on internal channels—email, web feedback (surveys and forms), and RSS. The product uses...
Sign in to download the full article
0 comments