Local Motors: Open Source Car Design and Local Manufacturing
Forging a Customer Ecosystem to Transform the Automobile Industry
Can you transform an industry from the outside? That's what Local Motors is doing with the automobile industry with its customer ecosystem to design and produce great cars. This case study shows how Local Motors follows the six critical success factors for a customer ecosystem to re-envision and industry from the outside in.
NETTING IT OUT
Can you transform an industry from the outside? Try circumventing the incumbent players and building an ecosystem of passionate co-creators to design new products and new processes that work better to deliver really cool products that the incumbents don't offer. That's what Local Motors is doing with the automobile industry. By recruiting industrial designers, automotive engineers, and would-be customers who are passionate about cars, Local Motors has built a vibrant community of co-creators and has produced two cars—one of which is already in production—in a record three years.
Local Motors (Local-Motors.com) is a great example of a customer ecosystem—a business network that's aligned to help customers meet their goals: in this case, design and produce great cars! Local Motors is also innovating in customer experience—what it means to own a car you helped to build yourself. Local Motors is also redefining the processes for how cars are manufactured, sold, and serviced by substituting local micro factories for traditional dealerships.
WHAT IS LOCAL MOTORS AND WHAT IS ITS MISSION?
Make Cool Cars!
Local Motors was launched in 2007 to transform the automotive industry. Its mission is to create game-changing cars with an unprecedented standard of customer service. "We make cool cars. We make them five times faster than the average car business. And we make them 100 times less capital-intensively," explains CEO and co-founder, Jay Rogers.
Local Motors' goals:
• Jay Rogers, an ex-marine who served in Iraq, was passionate about reducing our dependence on foreign oil by making cars that are much more fuel-efficient. He is also pragmatic enough to realize that one good way to design cars that don't consume as much gasoline is to make them lightweight, using the latest composite materials in their construction. It's faster to produce a lightweight car using an already road-approved drive train than it is to design an entirely new engine.
• Transform car manufacturing and retailing to be local and customizable. Rogers decided that cars should be manufactured, sold, and serviced locally, all from the same micro factories. You don't need a huge factory anymore. You can assemble a car in a small space, akin to today's car dealerships.
Reinventing the Car Industry!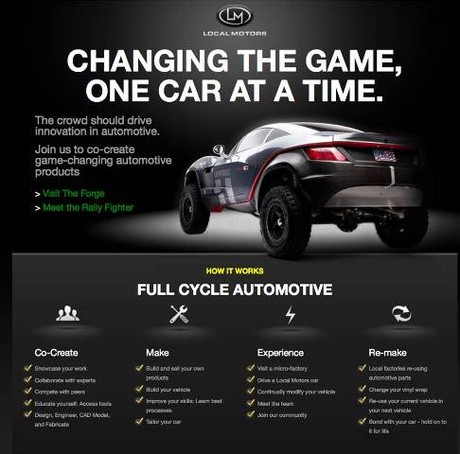 © 2012 Local Motors
Local Motors is a company that is committed to re-inventing the automobile industry.
• Design cooler cars than the ones being designed by traditional car companies. Jay Rogers wanted to apply the principles of open source design and creative commons licensing to the design of vehicles. What works for software should work just as well for manufactured goods, he reasoned.
• Provide an open platform for specialty automotive equipment manufacturers to contribute more meaningfully to the design of today's vehicles. "We believe that we can, over time, deliver safer, more meaningful cars." Jay went on to explain, "Chris Andersen said it the best: 'The car industry is like a glassful of rocks.' Each of the rocks is one of the big automobile companies. We're like pouring sand in the rocks. We make cars niche market cars that the big guys can't make." And, because the community votes on the designs and customers put their money down, "we know it's successful before we make it."
Redefine the Processes of Designing and Producing Cars
When Jay Rogers talks about "cool" cars, he unpacks "cool" to describe the way his company is designed to work. Cool includes Community, Open, Ownership, and Local.
COMMUNITY: Each car is designed and evolved by the design community of industrial designers, automotive designers, engineers, and enthusiasts, using a model of competitions. "Everyone thinks they're right in cars, whether you're a customer, an engineer, or designer. If the wisdom of the crowds gets going because people like to be competitive, then it's perfect, because everyone wants to say, 'no, no, no, my idea is even better than your idea!' So you can get the community going pretty well when it comes to cars." Local Motors has learned that actually it's more about collaboration than competition. The ownership/stake earned in participating creates a vested interest.
OPEN: Customers' designs are open source. The specifications, drawings, 3D models, and machine tool instructions are published for all to examine and to extend. Each design is licensed using the Creative Commons' Attribution, Non-Commercial, Share-Alike license. That means that you can show the designs to others as long as the work is always attributed to the designer. If you want to add your own ideas to someone else's designs, you need to share those ideas with the rest of the community. If you want to sell the designs or to make cars that are based on the designs, then you have to negotiate with the designer. That's the non-commercial part. The designers, who win any of the competitions that Local Motors runs, win a prize—sometimes it's money, receiving a prototype, or a factory visit. But as soon as Local Motors (or anyone else) produces a car for sale using that design, the designer receives ...
Sign in to download the full article
0 comments