Lumosity Harnesses 45 Million Brains
A Customer Ecosystem Focused on Improving Our Brains' Performance
Lumosity is more than a set of brain-training games you can use to while away the time on your iPhone. It's an ecosystem of teachers/students, therapists/clients, doctors/patients, and researchers that are aligned around one customer-centric goal: helping people improve their brains' performance.
NETTING IT OUT
Lumosity provides games designed to build your brain power. The online and iPhone games are designed by experts in neuroscience to help you develop new neurons and new connections between neurons. No matter your age, a few sessions a week with Lumosity games will allegedly improve your memory and increase your mental agility and acuity.
Since 2007, 45 million people have played Lumosity's brain training games, resulting in a mega database of learning behavior and patterns. This information is made available to scientific researchers through Lumosity's Human Cognition Project. Scientists can also use the survey platform and games to run their own research projects. Teachers can integrate Lumosity into their coursework. Therapists can integrate Lumosity games into their patients' training regimes.
The result: an ecosystem of educators, physicians, neuroscientists, psychologists, clinicians, and experts on a variety of brain-impacting conditions—all able to harness the data generated by people in 180 countries as those consumers play games to improve their brains' performance. At the core of the ecosystem are the customers—people who want to keep their brains sharp and agile.
Lumosity Games Exercise Different Aspects of Your Brain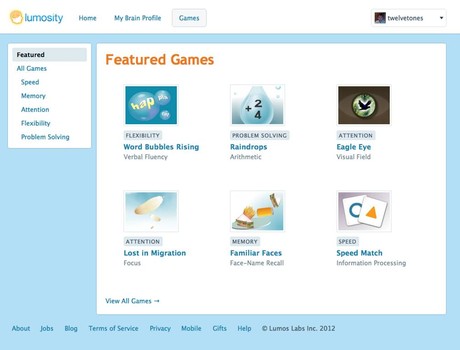 © 2012-2013 Lumos Labs, Inc.
1. Lumosity offers over forty games to improve different aspects of your brain's performance: Attention, flexibility, memory, problem-solving, and speed.
A CUSTOMER ECOSYSTEM FOCUSED ON IMPROVING OUR BRAINS' PERFORMANCE
What's a Customer Ecosystem?
We coined the term, "customer-centric ecosystem" in 2002 and shortened it to "customer ecosystem" in 2010. By our definition, a customer ecosystem is a unique and specific business model. It's not just a brand that attracts customers and developers/artists/musicians or other co-creators, and channel partners and suppliers, like Apple or Microsoft or Salesforce. It's a business ecosystem that supports a specific customer scenario—an activity that customers need to do that they care about.
The customer scenario might be event-based, like planning a wedding or a business conference, taking a vacation, moving to a new home or office, or getting a degree. Or the customers' activity might be ongoing—like maintaining the cars (and other transportation options) for our household, shopping for groceries each week, managing the health and wellbeing of my family members, managing our cash flow and savings, or enjoying good music.
In the case of Lumosity, this is a customer ecosystem aligned around helping people improve their brains. The customers are at the core of the ecosystem. They play Lumosity games because they believe those games will make their brains work better. The games they play are provided by Lumos Labs. The other players in the ecosystem are psychologists, neurologists, therapists, doctors, and educators who want to study the affects of these games on people with specific brain disorders, and/or on improving certain types of cognition in particular groups of people.
WHY DO 45 MILLION CUSTOMERS WANT TO IMPROVE THEIR BRAIN'S PERFORMANCE?
People Value Their Brain Power
Whether a person is aging and concerned about memory loss, or young and wanting to outperform their peers, everyone wants to be at their best. We all know that we can improve performance in music or sports with practice. Why not improve our brain's performance? Lumosity claims to be more than a set of seductive brain games; it asserts that it will actually improve your...(more)
(Download the PDF to read the entire article.)
Sign in to download the full article
0 comments