Managing Customer Innovation at Alaska Airlines
Alaska Airlines Combines Customer Innovation with E-Commerce & Mobile
A pioneer in customer-facing innovations, such as online ticketing and flight check-in, Alaska Air Group, the seventh largest airline in the U.S., has made customer experience a priority. Combining ecommerce, mobile, and customer innovation strategies under the guidance of Managing Director, AlaskaAir.com and Customer Innovation, Curtis Kopf, the airline has improved the customer experience through the use of technology.
NETTING IT OUT
Where does customer innovation belong in your organization? At Alaska Airlines, customer innovation and customer experience are tightly linked. Alaska Airlines wants to ensure that they continue to pioneer in providing the best possible mobile and online experiences. They also want to continue to improve the experiences customers have when checking their bags, running the airport security gauntlet, their pre-boarding experience, their in-flight experience, and the reuniting with their bags experience. So, for Alaska Airlines, it made sense for customer innovation to be combined with online and mobile, all reporting to the marketing organization. However, in order to ensure that physical experiences meet customers' needs, Alaska Airlines' customer innovation leader also spearheads cross-functional innovation teams to focus on the physical aspects of the customers' experience.
Alaska Airlines Pioneered in the Use of iPads for Flight Manuals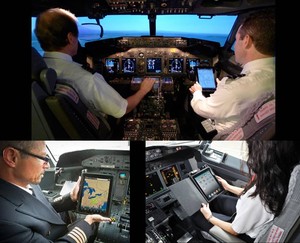 (Click on the image to enlarge.)
© 2012 Alaska Airlines
NEW ROLE: MANAGING DIRECTOR OF CUSTOMER INNOVATION?
Alaska Airlines: Pioneering Again
Not long ago, a small news item caught my attention about Alaska Airlines' New Mobile Site. It wasn't so much the story itself, since many airlines now have mobile Web sites and mobile apps, but the title of the person quoted in the article that I found intriguing. Curtis Kopf, Alaska Airlines Managing Director of Customer Innovation, was quoted in the article. I hadn't run into an MD of Customer Innovation before. I had to find out more! So I called him up.
Curtis Kopf pointed out that Alaska Airlines has been an innovative company from its inception in 1932 when Mac McGee started flying his three-seat Stinson between Anchorage and Bristol Bay, Alaska, to today when Alaska Air Group (Alaska and Horizon Airlines) is the seventh largest airline in the U.S., with 168 aircraft flying 17+ million people to 90 cities in three countries. "Solving really hard problems is in the DNA of the company. We still fly to some destinations that most large airlines would never fly into," Curtis Kopf explained.
Alaska Airlines has pioneered in the virtual world as well as the physical world. It was the first airline to do online booking, the first airline to provide online check in and wireless check-in, and the first to pioneer self-service check-in at the airport via kiosks. (Download the PDF to see the table.)
New Role: MD of Customer Innovation
In the Fall of 2010, Joseph Sprague, Marketing VP for Alaska Airlines, began recruiting for a new position: Managing Director of Alaskaair.com and Customer Innovation. By that point, Alaska Airlines had already launched a mobile web site and some mobile apps, but it was clear to Sprague that he needed someone to focus on an integrated strategy for the web, online, and other innovative uses of customer-touching technology, such as those used in check-in and boarding. He wanted to be sure that Alaska Airlines' frugal budget for technology innovations would be focused on the things that matter most to customers.
Among the many applicants for this intriguing-sounding position was Curtis Kopf. Curtis had trained and practiced as a journalist, but then segued into roles that were characterized by new product development, streamlining complex processes, and cross-channel outreach to customers. The theme in all of them was the power of technology to make peoples' lives better and to disrupt industries. Curtis had spent seven years at Time/Life Books working on new product development, which took him to Amazon.com where he spent seven years streamlining business processes with publishers and other customer-impacting processes, and developing and scaling global digital merchandising programs. He then spent six years at Microsoft, first as director of employee communications, and then he owned all customer-facing channels for Microsoft's Trustworthy Computing initiative, developing customer-facing e-tools and features and monitoring and managing online merchandising, among other roles.
E-COMMERCE AND ONLINE. It's not surprising to me that at Alaska Airlines e-commerce is combined with customer innovation. Many of our most visionary and innovative clients originally headed up their firms' online operations. Over time it becomes apparent to anyone overseeing a company's customer-facing online strategy that it's not possible to draw a clean line between customer self-service and customer-impacting business processes in other parts of the business. As soon as customers roll up their proverbial sleeves to do business online, they begin to bump into customer-unfriendly policies and/or systems that were optimized for internal efficiencies, not for customer experience. So it's a good idea for the head of the online channel to have the purview to also tackle other customer-impacting business processes.
It's hard to separate e-commerce and online self-service from mobile tools and your mobile-friendly web site. So it also makes sense to combine mobile and e-commerce/online under one role. But what's different and particularly interesting to me about Curtis Kopf's role at Alaska Airlines is his involvement in the company's initiatives to use technology to make it easy for customers to get things done when they're interacting with Alaska Airlines and its personnel at the airport and/or on the plane.
IMPROVE CUSTOMER EXPERIENCE THROUGH THE USE OF TECHNOLOGY. Several times a month, a cross-functional internal innovation team gets together to iterate on ideas about different aspects of the business as they relate to customer experience. Depending on the topic, different internal groups participate. One week, flight attendants might join; another week, the Cargo team; another week, airport staff. IT is a joint leader of the process with marketing and plays a critical role. Bringing together diverse perspectives and working across divisions is an important part of innovating for the customer. "At Alaska Airlines, the customer is at the center of everything we do." He compared the customer focus to that of Amazon.com. "The difference is that Alaska Airlines is only 13,000 people (compared to Amazon's 65,000 employees), and many people started their careers here in customer-facing roles. Most people who work on my team came from the front line." So the innovations they work on have to do with improving customer experience, often through the use of technology. The ideas may have to do with the boarding experience, the in-flight experience, the booking experience, the arriving at the airport experience, the airport lounge experience (pancake-making machines), the being stuck in traffic on the way to the airport experience, the getting through airport security experience. "Right now we're looking at the customer experience in the airport. We've asked the innovation team to help us. Let's look at the boarding process, the check-in experience. You guys go brainstorm; what do you think it should be?"
MOBILE STRATEGY. Since he joined Alaska Airlines in November 2010, Curtis has focused heavily on mobile technology. It reminds him of his early days at Amazon.com in the late 1990s when e-commerce was just emerging. He has spearheaded the development of next-generation mobile applications and a next-gen mobile Web site. (See "Designing/Refining Your Mobile Strategy.") "We decided to rebuild our mobile apps and mobile web site," Curtis reported. "Like many, we got out with something quickly and learned from that experience. We realized we needed to go back and take a different approach." He realized that their mobile strategy and architecture needed to be: a) driven by customers' priorities and b) integrated into their overall cross-channel strategy. "Rather than thinking about developing mobile apps as a set of projects, we are thinking about it as building a whole new channel. I wanted to bring the approach that Amazon or Apple would take to design a product. What Jeff Bezos always said and what they do at Amazon is start with...
Sign in to download the full article
0 comments