Mars Direct: Customized Candy Combats Commoditization
Best Practices from the MIT Smart Customization Seminar 2008
Learn how personalized M&M's have led to a profitable new business model. Discover how Mars Direct became an innovative "personalized expressions" company within Mars, the makers of Mars bars and other well-known candies. Mars Direct's R&D Director, Dan Michael describes the journey to-date.
MARS DIRECT: PERSONALIZING CANDY & EXPRESSIONS
Personalized Expressions
Dan Michael, the R&D Director of Mars Direct, told me "the story of how and why a personalized chocolate business was started and grown within a mass market snack food company." He briefly described the evolution of Mars Direct which currently sells, manufactures, and delivers personalized M&Ms and Dove Chocolates. "We're not a candy company; we're a personalized expressions company," Dan emphasized. "We make special moments more magical. The giver makes meaningful moments more magical through personalization." Personalized M&Ms are used at birthdays, weddings, company bashes and sporting events. "My Dove" chocolate bars, with specially printed messages on the foil wrap, have been used to propose marriage as well as to celebrate events.
My M&Ms. I have personal experience with My M&Ms®. I've ordered them for my grandkids' birthdays. They're always a big hit. I learned about them from an online ad at myrecipes.com. It's quick and easy to go to the mymms.com site and use the online tools to select your colors, type in your message(s), and select your packaging. As of June, 2008, you can also upload an image or a logo and have it printed (in black) on a colored M&M.
One of the things the My M&M team has learned is that customers not only want to personalize their candy to tell a story or to commemorate an event, they also want to customize the packaging they select. Depending on the event, customers may choose to have the personalized candy delivered in bulk (so they can pour it into bowls), or wrapped in cellophane bags, or delivered in boxes or tins. Dan reports that the most popular options are currently the 7 ounce cellophane wrapped bundles and the bulk delivery.
My Dove. The customization of M&Ms packaging gave the Mars Direct team the idea to use custom packaging as the personalization mechanism for other snacks—ones that don't lend themselves to printing on the candy. The personalized expressions that customers create for My Dove candy bars are printed on the foil paper used to wrap the candy.
When you visit the Mydovechocolate.com site, you'll discover a wealth of seductive personalization and customization options. You can select the type font, create multiple messages, and select the color of foil wrapping. You can select among a wide variety of gift boxes, with different types of chocolates and different packaging options, e.g., ribbon colors, and so on.
My M&M's
Create Your Personalized M&Ms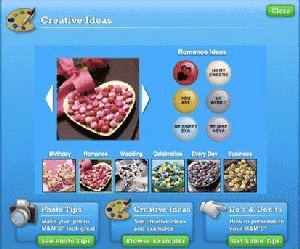 For each order, you select from among 22 colors and create the verbiage you'd like. Add imagery, including photos.
Personalize Your Candy Wrapper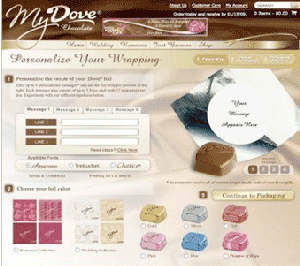 My Dove lets you Create Messages that appear inside each Candy Wrapper
You can select your typeface and create up to four separate 3-line messages. This has become a popular way for guys to propose marriage!
What's in It for Mars?
The revenues from the Mars Direct business are small compared to the billions of dollars Mars makes each year from its brands (which now include Snickers, M&Ms, Wrigley gum, and even Pedigree Pet food, among others.). Yet the personalized expressions business adds value and cachet to the brands it surrounds. "We can show that our innovation drives interest in our brands."
"We launched our MARS Direct business because senior management felt we would only grow so much (3 percent on average) pushing snacks thru existing channels," Dan stated. We needed to 'premiumize' our products."
How Is Mars Direct Doing? Mars Direct is a separate, small, self-contained business unit, Dan explained. It measures its results in revenues, profits, customer experience, and brand awareness. For example...
***
This case study is excerpted from my "Smart Customization Comes of Age," Best Practices report, January 8, 2009.
***
Sign in to download the full article
0 comments