Omniture Recommendations
Integration with Powerful Omniture Marketing Suite
Recommendations can improve customer experience, improve search results, and boost Web site KPIs. Omniture Recommendations stacks up very well against our evaluation criteria. If you are in ecommerce, publishing, or advertising, Omniture Recommendations should be on your short list. Omniture is one of the largest providers of SaaS, delivering trillions of transactions. Omniture Recommendations is integrated into Omniture's leading marketing suite, anchored on SiteCatalyst, the leading Web analytics solution, and augmented by a broad partner accreditation and integration program. Omniture has effective and extensive client care capabilities, covering strategy, tactics, implementation, training, and ongoing optimization.
NETTING IT OUT
Recommendation engines are a way for content owners—such as merchants, marketers, and publishers—to present the most interesting content to each customer at each step in the interaction. Recommendations were popularized a decade ago by Amazon's famous "other people who looked at this bought that" style of recommendation. Today, recommendation solutions are available from a variety of sources, including software-as-a-service providers such as Omniture.
If you are in retail or B2B ecommerce, publishing, or advertising and looking for a recommendation solution, or a means to personalize interactions, Omniture should be on your short list.
Omniture's focus is recommendations and personalization for ecommerce, publishing, and advertising. Customers include REI, Bakers Shoes, Northern Tool, Express, and Build.com.
The key strengths of Omniture Recommendations are its integration with Omniture's marketing suite, itself a market leader that includes Omniture SiteCatalyst, the leading Web analytics platform, and Omniture Genesis, a program for integrating partner solutions; the control merchants have over every aspect of recommendations; Omniture's mature and scalable hosting environment, which manages trillions of transactions annually; and Omniture's client care, which guides marketers in all levels of online marketing endeavors.
Recommendations at Express.com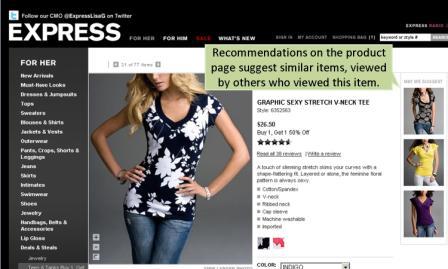 © 2010 Patricia Seybold Group and Express.com
Illustration 1. At Express.com, recommendations are deployed on pages across the site. Recommendations on product detail pages present similar items viewed by others who viewed this item; recommendations in the shopping cart tempt shoppers to add to their order.
OVERVIEW OF OMNITURE
Omniture
Omniture, which became part of Adobe in 2009, is one of the largest SaaS providers in the world. In Adobe's 4Q2009, it processed over one trillion transactions for approximately 5,000 customers. Omniture's flagship product is SiteCatalyst, a Web analytics offering that makes up roughly half of Omniture's business. But Omniture is no longer just for analytics. Omniture Marketing Suite has become a marketing platform, expanding its offerings to include site search, recommendations, testing, and multi-channel capabilities. In Omniture Genesis, its partner network provides a suite of integrated, accredited third-party applications that expand Omniture's platform in ways both general and specific. Even Omniture's competitors are members of Omniture Genesis, testimony to the strength of Omniture's customer base and the popularity of SiteCatalyst.
Omniture was acquired by Adobe in October 2009. Adobe sees Omniture as another way to extend its marketing reach, an opportunity for Adobe to support its customers not only in creating and delivering, but also monetizing and optimizing their results. Adobe plans to add trackability to its content creation tools, to enable a complete feedback loop for customers using its product line.
Omniture currently delivers about three percent of Adobe's revenues. This percentage understates Omniture's contribution. Omniture's clients subscribe to a service and therefore commit to delivering a revenue stream over time. The stream may be relatively small, but it keeps coming. If you've ever tried to keep a bucket empty under a drip, you know the power of a steady stream.
Omniture Recommendations
Omniture positions its products in five business categories:
Online Business Optimization
Conversion
Online Analytics
Multi-Channel Analytics
Open Business Analytics Platform
Omniture Recommendations is in Omniture's conversion category, along with Omniture Merchandising (a search, navigation, and merchandising solution), Omniture Publish, Omniture SiteSearch (site search for unstructured content), and Omniture Test&Target.
Omniture Recommendations was released in March 2009. It is based, in part, on technologies acquired with Omniture's purchase of TouchClarity in February 2007. Omniture Recommendations is integrated with Omniture SiteCatalyst, Omniture Test&Target, Omniture Merchandising, and Omniture SiteSearch. The integration enables Omniture Recommendations to use data from these services to create more sophisticated recommendations. In this report, we review Omniture Recommendations.
Omniture Recommendations is used largely by retailer clients, but also by clients in B2B ecommerce, publishing, and advertising. Omniture customers already using Omniture SiteCatalyst or Omniture Merchandising would naturally consider Omniture Recommendations given the ease of implementation and its integration with their marketing suite. Marketers in need of a more coherent online platform, including one that controls recommendations, will be attracted to Omniture's very strong marketing suite, with its ...
Sign in to download the full article
0 comments