Pandora: Delivering Personalized Internet Radio
How Pandora Internet Radio Combines Taxonomy, Crowdsourcing, and Personalization to Improve Music Playlists
As is the case with many electronic publishing efforts, Pandora Radio has merged the best of both worlds: a professional taxonomy with the wisdom of the crowds. Professional musicians have categorized music for personalized "radio stations," but people can vote on whether certain songs really belong. This case study looks at the trade-offs between the distinctions that subject matter experts make and the distinctions that average fans make.
NETTING IT OUT
Pandora Internet Radio is an incredibly popular mobile phone application in the United States.* Pandora has been in business for 10 years. The company has spent the entire decade having professional musicians classify music using an elaborate and very complete 400-element classification scheme. Their goal: take music you know and like and present you with music you don't know but will like, in the context of a radio listening experience that combines familiar, well-loved music with new music.
Over the last four years, two things have happened that have made Pandora Radio extremely popular. The first is the ability to access and listen to music from the Internet using a mobile phone or other device you can carry around. The second is the way that the company has combined the feedback it receives from customers about whether or not they like a particular track of music when it is presented in the context of a particular "radio station" they created to feature a particular sound or style.
This "case study" is derived from a 30-minute speech delivered by Tom Conrad, Pandora's Chief Technology Officer, on May 20, 2010 at Frank Piller's Smart Customization Seminar held at MIT's Design Lab.
REDEFINING RADIO
Pandora Internet Radio has 50 million active listeners in the U.S. These are people who listen to personally tailored Pandora Internet stations on their mobile phones and/or their computers via the Internet. According to Tom Conrad, Pandora's CTO, Pandora accounts for over 50 percent of all Internet radio listening in the U.S.
Yet, today, Internet radio is still a small percentage of all radio listening. Pandora accounts for 1½ percent of overall radio listening in the U.S. By contrast, ClearChannel by Comcast accounts for 20 percent. "We still have a big opportunity to redefine the radio listening experience," Tom Conrad exclaimed in a talk he gave at a Smart Customization Seminar at the MIT Design Lab on May 20, 2010. Tom's talk focused on the lessons that Pandora Radio has learned about customizing radio play lists to provide the ideal mix of familiarity and serendipity to people who enjoy listening to, and discovering new music.
Where and when do people listen to music on the radio? "If you look at the way music is consumed in the U.S., it's really a radio game far more than anyone realizes. People listen to 17 hours of radio music per week compared to listening to three hours of music they own. Radio is the predominant form of music. That's because it's ubiquitous. Everywhere you go there's a radio. It's simple; you press a single button. And it has this great discovery/serendipity dimension."
According to Tom Conrad, in the U.S., 50 percent of the time we spend listening to radio is in our cars. 33 percent of the time, we're listening in our homes. 20 percent of the time, we're listening at work, in the gym, or while we're out and about. Pandora Internet Radio used to be limited to that 20 percent "other" category. "Most people listened at work, during lunch. Our peak every day is at 1 pm," Tom explained.
Pandora Internet Radio Really Took Off on Mobile Devices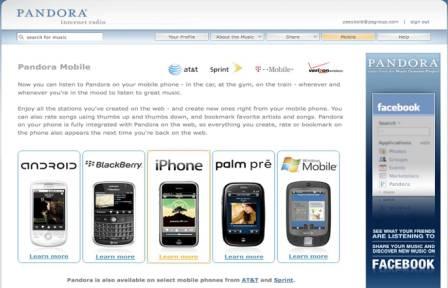 © 2010 Pandora
Illustration 1. 22 million of Pandora's 50 million users are mobile customers. The iPhone remains the most popular platform for listening to Pandora Radio on the go.
Listening to Internet Radio via Mobile Phones and Consumer Gadgets
"The big breakthrough for us came a couple of years ago when we started to take our first step into mobile and consumer electronics," Tom Conrad explained. Pandora began by partnering with companies like Sprint and AT&T as they rolled out phones with Internet access. Pandora was an easy-to-use Internet application that could demonstrate the value of a $25 feature phone. "But the real breakthrough came with the advent of the iPhone," Tom explained, "and after that, the Android and other SmartPhones. Now 22 million of those 50 million users listen to Pandora from a phone rather than from a Web site. We have also launched on 100 different consumer electronics devices." So you can listen to Internet Radio on your alarm clock, or your Blu-ray, or your wireless radio.
Internet Radio: Finding Music You Love
The purpose of Internet radio is to give listeners the ability to listen to free music anywhere and anytime they want. Like an AM or FM radio, Internet radio exposes listeners to a variety of music—some of it familiar, some of it unfamiliar. It's a good way to enjoy a variety of music you already know and like, and to discover new music you might like, without paying for it.
How Do Internet Radio Playlists Differ from Other Playlists?
In the U.S., Internet radio companies must pay performance royalties to musicians and abide by certain restrictions in how often and how they can play music. Musicians are compensated based on the number of times their music is played on each station. Each Internet radio station may play music of a particular genre, or music by particular composers or groups. However, a single station can't legally play more than four songs credited to a particular artist within a three hour period. On Internet radio, a listener can't play a song on demand when he or she wants to listen to it, the way she can if she owns the music. She has to wait until that song comes up in a play list. Nor can the listener replay the songs he likes over and over. Nor can he pre-program a list of songs in a particular order. However listeners can create radio "stations" to feature the music of particular artists, genres, or groups, and tune into that station.
By contrast, when you create a playlist of digital music you've purchased, you can play it anytime; often, from multiple devices. You can replay a particular song as often as you'd like. You can play any song on demand. You can create your own playlists with particular songs that will play in a particular order.
But what you do miss that you get from radio stations is ...
Sign in to download the full article
0 comments