Peer-to-Peer Business Models
Facilitating "Matchmaking" between Individuals for Fun and Profit
The peer-to-peer business model works on the premise of playing matchmaker between individuals with a service to offer and others who could use that service. Your company can provide the platform, rules and regulations, and payment/remuneration methods to facilitate this type of community-based business. We look specifically at Lyft, a company that helps individuals who need a ride match up with people who have a car and want to earn a few bucks by giving them rides.
NETTING IT OUT
Companies like Lyft, Inc., which match individuals with vehicles and extra time to drive them with others in their area who need rides, follow a peer-to-peer business model. Other examples of P2P platforms are Airbnb, Aristotle Circle, eBay, Match.com, and Zopa. The individual consumers provide the services and consume the services, while the company provides the platform for making the matches, the guidelines/rules/regulations, and the payment/remuneration mechanisms.
Is there an opportunity for your organization to leverage matchmaking among your customers to fulfill their needs and to generate some revenue?
THE PEERS, INC. BUSINESS MODEL
About a year ago, Patty Seybold published an article on BuzzCar, a Peer-to-Peer Car Rental business created by Robin Chase, the founder of Zipcar. A peer-to-peer business is one where consumers can buy and sell products and services to one another. Adds Chase, "It's a partnership between companies and individuals, and together you're getting the best of both worlds. It's a symbiotic relationship where we share the value creation." Chase added the concept of a "Peers, Inc." business model, explaining that it is "a partnership where the individuals are providing services and products on this platform for participation." The platform is provided by an actual business. Chase explains, "The company provides everything that companies are fabulous at: Economies of scale, making really big purchases and doing big things like ensuring investments, standards of quality, recourse, brand promise."
So, when I recently received a discount offer from Boston Deals (Boston.com) for Lyft, a ride-sharing program from California that is expanding into the Boston area, I recognized it as a Peers, Inc. business. So, like many things I encounter through daily deals, it sparked my interest beyond just getting a discount.
NEED A LYFT?
Ride-Sharing Goes Community-Based Business
Back when I was in college (too many years ago to count) there was a big ride-sharing board in the Student Union. Basically a colorful map of the US, you could pin up requests for rides and/or offers to drive, indicating the dates and destinations. You could then call the person to negotiate the shared ride and conditions (sharing gas, sharing driving, pay a fee, etc.). I took advantage of the board many times over the four years I was at the university.
Nowadays, with email, texting, and social media, ride sharing is much easier to arrange. And it has expanded beyond the campus.
A spin-off of Zimride, founded in 2007, which offers carpool solutions for university and corporate networks, Lyft was launched in June of 2012 in San Francisco and is being promoted as the latest in peer-to-peer (p2p) transportation. Lyft co-founder John Zimmer explained in his interview with Matt Lynley, published in Business Insider, "Instead of working like Uber, a similar service for professional limo drivers, Lyft has more of a community aspect, focusing on regular car owners who want to help their friends and meet new people."
HOW LYFT WORKS. According to Scott Kirsner in a Boston Globe article:
"The people who drive for Lyft…are just regular folks earning a bit of extra scratch in their free time. The difference between them and me, however, is the interiors of their cars tend to be immaculate.

On a busy street, Lyft vehicles are easy to spot: They have a pink fuzzy mustache affixed to the front grille. [See Illustration 1.]

On a Lyft ride from the Back Bay to South Boston this month, the estimated arrival time was off — six minutes turned out to be 12 — but my driver called first to get specific information about where I was waiting.

When the ride is over, a message pops up on your phone asking you to rate your driver on a scale of one to five stars, and make a donation using a credit card you've stored. The app suggests an amount, which you are free to adjust up or down. (Riders also get ratings from drivers.)"

© 2013 Lyft, Inc.
1. The distinctive pink mustache attached to the front of a Lyft ride makes it easy to spot, but can also seem somewhat silly (at least to us). We wonder if the mustache is "optional." We contacted Lyft to inquire, but haven't heard back from the company.
The Riders. To take advantage of the Lyft service, you can download either the iPhone or Android app for free. You then log into Facebook to select your pickup location and request a ride. (See Illustration 2.) The app allows you to see a picture of the car and driver that is assigned to you. The pink-mustached vehicle (see, again, Illustration 1) arrives and the non-professional driver (who is the owner of the car) takes you to your destination. You then make a donation (with the credit card that you have on file with Lyft) based on what you think the ride was worth and rate the driver on a scale of 1 to 5 stars.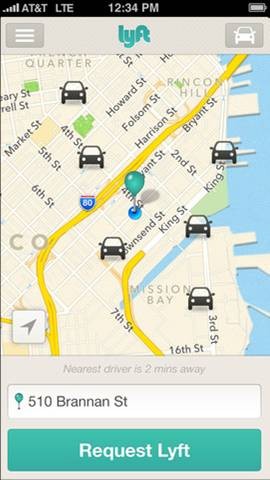 © 2013 Lyft, Inc.
2. From your iPhone or Android, you request a Lyft from the Lyft app within Facebook.
The Drivers. Potential drivers apply on the lyft.me site. Anyone 23 or older with their own car (2000 or newer) can become a driver, although there is a rigorous screening, which includes…
(Download the PDF to read the entire article.)
Sign in to download the full article
0 comments