Recovering from the Crisis of Missed Holiday Deliveries
How Well Are Etailers and Shippers Dealing with Customers' Anger?
With so many packages not delivered in time for the holidays, etailers and delivery companies had a lot of explaining to do and apologies to make. And, not only were customers left without gifts to put under the tree, online merchants had to offer refunds and gift cards to try to retain customers for the future, which put a big bite on holiday revenues. What can be done to avoid this type of customer experience disaster next holiday season? Perhaps improved communications and formal processes among all members of the etailing customer ecosystem will help.
NETTING IT OUT
The missed Christmas deliveries of 2013 are history, and the crisis is out of the news now that we are in the new year. But what could be done differently? How are the merchants and shippers responding to customer disappointment?
In a gift-giving customer scenario, the most important thing to customers is that gifts are given and received on time. That didn't happen for thousands of people this year.
We look at what went wrong, how customers reacted, how providers responded, and what remedies can be put in place to avoid this type of problem next year, when online shopping will be even more prevalent.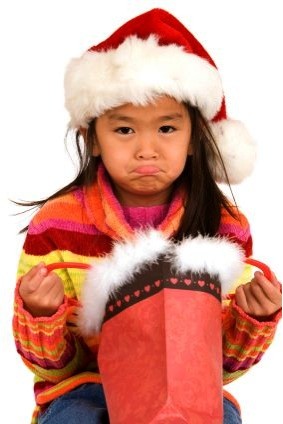 © 2014 Matthunt.com
1. Too many empty gift bags and stockings resulted from missed deliveries. An unhappy child does not lead to good customer experience!
THE CLASSIC GIFT-GIVING CUSTOMER SCENARIO
On-Time Delivery is the Most Important Moment of Truth
For the almost 25+ years we've been mapping Customer Scenarios with clients, we've noticed recurring patterns of customer experience expectations. For example, within almost all consumer retail scenarios, requirements for gift-giving capabilities arise; and they are always very similar. (Notice that we describe this scenario as "gift giving," not "gift buying." A true Customer Scenario includes the outcome that the customer cares about; in this case, "my friend/family member/colleague loved the gift (so I look good!)."
There is no time of year when the gift-giving scenario is more front and center than during the holiday season.
In every Customer Scenario, there are Moments of Truth—showstoppers, where, if not satisfied, customers will abandon you. The key moment of truth for any gift-giving scenario is On-Time Delivery. Unfortunately, that showstopper reared its ugly head for thousands of customers this year. (For more information on this topic, see "How Well Do E-Tailers Handle Gift Giving?")
WHAT WENT WRONG THIS YEAR?
Thousands of holiday gifts ordered online failed to be delivered all over the United States by the promised date of December 24th so that they could be wrapped and put under Christmas trees. Imagine all the broken-hearted children who didn't get to open their new Legos kit, Barbie dream house, or Angry Bird Plushy on Christmas morning. So what went wrong? ...(more)
(Download the PDF to read the entire article.)
Sign in to download the full article
0 comments