Salesforce Service Cloud Summer 17
Enterprise-Class Case & Knowledge Management, Collaboration, Communities, Search, & Social Customer Service
Salesforce Service Cloud is a product in transition. By June, 2018, some of the newer features will be better integrated. This review of the current version of Service Cloud provides an accurate picture of the strengths and weaknesses of the current offering. Many Service Cloud features already use the new Lighning user interface. But other features, including apps for many mobile devices, are still awaiting Lightning support.
We recommend that large businesses consider Service Cloud as the core for their customer service application portfolios. Further, we recommend that large businesses with existing Service Cloud deployments analyze the impact of the Lightning UX implementation on their deployments and consider deploying Service Cloud Lightning on an app-by-app and feature-by-feature basis.
NETTING IT OUT
Introduced in 2004, and enhanced each year, Service Cloud has a very large customer base--likely 30,000 or more customer accounts. Service Cloud is Salesforce.com's, high-end customer service offering, providing case management, knowledge management, search, communities, collaboration, and social customer service capabilities across assisted-service and self-service channels, on web browsers and mobile devices in a wide range of languages. Salesforce offers subscription licenses for Service Cloud for deployment on the company's multi-tenant cloud computing infrastructure. Several separately packaged and separately priced features and add-on products are necessary to create a complete customer service application portfolio around a Service Cloud foundation.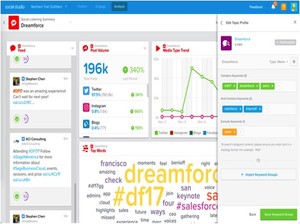 Service Cloud earns a mostly good Report Card against our new Evaluation Framework for Customer Service. It earns Exceeds Requirements grades for Customer Service, Meets Requirements grades for Reporting and for Offer but a Needs Improvement grade for Product where Salesforce's rolling implementation of its new Lightning UX has introduced limitations and some incompatibilities.
The Salesforce Service Cloud Offering
Service Cloud is the high-end customer service product from Salesforce.com, inc. (Salesforce). Service Cloud provides broad and deep cloud-based customer service capabilities on a wide range of assisted-service and self-service channels for implementation in many languages. Since its 2004 introduction, Salesforce has continually improved Service Cloud with new applications, additional capabilities, expanded channel and device support, additional language support, and enhanced usability.
We published framework-based, in-depth Product Evaluation Reports on all of the virtual assistant products. Also, we included the suppliers and their products in our regular Quarterly Customer Service Updates. (You'll find a list of the available reports at the end of each section of this update or you can access them directly at this URL.)
The Company behind the Solution
Salesforce is a publicly held corporation (NYSE:CRM) founded in 1999 and based in San Fran-cisco, CA with offices around the world. The firm is a pioneer in cloud computing. Currently, Sales-force has a staff of more than 25,000 employees and claims to have a customer base of more than 150,000 accounts. Customer organizations of all sizes, in all industries, and in all geographies license the products of the Salesforce CRM suite as well as offerings in analytics, community, ecommerce, Internet of Things (IoT) apps on a subscription basis for deployment in the firm's cloud computing infrastructure. In its last fiscal year, FY2017 ending January 31, 2017, Salesforce had revenues of more than $8 billion and strong revenue growth. For its FY2018, the firm forecasts revenue of more than $10 billion. Note that, in recent periods, Service Cloud has delivered 21% of that revenue.
More....Please Download this Report
Sign in to download the full article
0 comments