Salesforce Service Cloud
Capabilities for Self-Service, Assisted-Service, and Social Customer Service
If your organization is considering Salesforce Service Cloud for your self-service, assisted service, and social customer service channels, this report provides a detailed evaluation of the latest version: Service Cloud Winter '15. We evaluate customer service offerings against our Customer Service Software framework, which was updated in October, 2014. We've been evaluating customer service software solutions for two decades. Cloud-based customer service offerings enable faster and easier deployment than software systems you install and maintain in-house. But, your organization still needs to integrate this software with all your customer-impacting applications and processes. This report saves time and answers your questions.
NETTING IT OUT
Service Cloud, Salesforce.com's (SFDC's) customer service offering, provides case management, knowledge management, communities and collaboration, and social customer service capabilities across assisted-service, self-service, and social customer service channels. This offering is a collection of tightly integrated but variously packaged and priced features and external products—Service Cloud, itself, for case management and contact center support; Salesforce Knowledge for knowledge management; Live Agent for chat; Social Studio social customer service; and Salesforce Communities for communities and for customer self-service. Winter '15 is the current release of the offering and the release that we evaluated in this report.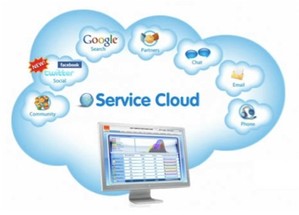 Salesforce.com offers subscription licenses for Service Cloud, and Service Cloud deploys on the company's hosted multi-tenant cloud computing infrastructure.
Service Cloud has a very large customer base, likely 50,000 customer accounts or more. Most were Sales Cloud customers that added a Service Cloud license to their subscriptions.
Service Cloud Winter '15 earns an excellent report card—Exceeds-Requirements grades in Customer Service Capabilities, Product Management, Supplier Viability, Case Management, Knowledge Management, Customer Service Integration, and Reporting and Analysis, and Meets-Requirement Grades in Product Marketing and Findability. Our evaluation found no area where any significant improvement is required.
We recommend that you consider Service Cloud Winter '15 as the core of your customer service application portfolio. Service Cloud is a broad and deep offering that addresses customer service requirements for B2B and B2C organizations of all sizes across many industries in all geographies. If your organization is already a Salesforce Sales Cloud user, Service Cloud could be your Customer Service Best Fit.
Service Cloud: Customer Service in Salesforce Apps
Salesforce.com offers an attractive set of customer-facing and customer-touching applications, its "Customer Success Platform." Salesforce Service Cloud is the company's core customer service application. Service Cloud provides case management capabilities on assisted-service, self-service, and social customer service channels. Businesses license and deploy Service Cloud along with a collection of its additional features and additional applications—Salesforce Knowledge for knowledge management, Live Agent for web chat, Communities for self-service and collaboration, Marketing Cloud Radian6 and Social Hub for social customer service—to provide a comprehensive, cross-channel customer service experience that can help answer customers' questions, solve customers' problems, and create, manage, and resolve cases.
As a Salesforce application, Service Cloud leverages the common facilities and resources of the Salesforce platform, the platform on which Salesforce has built and implemented all of its applications. Common and shared capabilities include... (more)
(Download the PDF to read the entire article.)
Sign in to download the full article
0 comments