Is Sears.com Strong Enough to Help Save Sears?
Customer Experience Audit of Sears.com's Capabilities to Let Customers Find and Buy What They Want and Manage Their Relationships
Sears is facing major financial challenges. Can its online strategy save the company? Our customer experience audit of Sears.com looks at how well the site can meet a customer scenario of "I want Sears.com to make it easy to manage my purchases and related home services to simplify my life." Our findings might surprise you.
NETTING IT OUT
Sears is facing a difficult future. Stores are closing, and pundits have been predicting its demise since the Kmart acquisition.
But, in the days of online shopping and seeking help "managing my stuff," can Sears.com combine what we have always loved about Sears with the new online shopping/manage-my-stuff paradigm? Sears.com has done a good job of enhancing its online product offerings through a marketplace much like Amazon's. And you can use the site to schedule familiar Sears services, including portraits, car maintenance, eye care, repairs, and home improvements. Further, the site is introducing a grocery/prescription/pet supplies/and more online shopping service for pick up or delivery.
So might Sears.com save Sears? It is too early to tell, but the company is on the right track.
Use this CX Audit to compare with your own company's business plans for delighting your customers.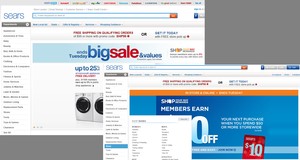 (Click on image to enlarge.)
© 2012 Patricia Seybold Group
Illustration 1. Sears.com offers easy navigation to all its departments for shopping. However, the ever-changing banners are distracting.
THE SEARS SITUATION
A Steady Decline in the Fortune of Sears
Like many Americans, I grew up shopping at Sears, mostly as a child following my mother around the store. So I was dismayed to hear that Sears Holdings will soon be closing up to 120 Sears and Kmart stores.
Sears has been a canonically American retail chain since 1887. When we were kids, the Sears catalog was a favorite pre-holiday reading. The Sears catalog, dubbed Wishbook, was one of the first online retail catalogs: Wishbook.com was launched in 1998, and Sears.com was launched in 2001.
Sears purchased Lands' End, another online leader, in 2002, and began to strengthen its bricks and clicks integration by creating Lands' End departments within Sears stores. There also was quite a bit of cross-fertilization across Landsend.com and Sears.com.1
In 2005, Eddie Lampert, a young hedge fund superstar and real estate mogul, often compared to Warren Buffet for his investment acumen, acquired the by-then-flagging Sears retail business in North America (U.S. and Canada) and merged it with Kmart. Retail industry pundits were skeptical from the outset. How would a non-retail executive turn around the venerable Sears?
Not very well, as it turns out. After an initial run up in the value of the Sears Holdings stock due to the acquisition, Sears Holdings has declined steadily since Lampert's acquisition. As Lauren Daniels summed it up in May, 2011, "Since 2005, the first year of results for the merged company, Sears Holdings' income has plunged 84 percent from $858 million, or $6.17 per diluted share. It is clear that Sears is a company in decline."2 Retail analysts complain that Lampert has under-invested in the stores and in merchandising.
After the chain turned in disappointing results throughout the rest of 2011, the next blow came on January 12, 2012 when CIT Group refused to finance inventory for some of Sears Holdings' suppliers. Now it is widely expected that other retail finance companies will refuse to provide financing to Sears' other vendors, and Sears may have to pay cash on delivery, which will hurt their cash flow.
As Sears Holdings stock has plummeted, Eddie Lampert has been buying it up, raising hopes that he will take the company private. Some analysts think that Sears might go so far as to shutter even more of its physical stores, relying more on e-commerce:
"Since hedge fund guru Edward Lampert took control of Sears and combined it with Kmart in 2005, the company has cut back investments in the physical stores in favor of pouring money into its online business. Some experts predict Sears will eventually become an e-commerce retailer with fewer, smaller storefronts to display its online wares."
~ Sandra Jones, Chicago Tribune, November 18, 2011
Can Sears Rebound?
On the other hand, Sears hired a heavy hitter in retail merchandising on January 3, 2012 to be in charge of revamping the remaining stores and merchandising. Ron Boire was the president and CEO of Brookstone. Before that, he was president of U.S. Toys for Toys 'R Us, and EVP of global merchandising for Best Buy. Sears' CEO Lou D'Ambrosio said, "In this new role, Mr. Boire will lead merchandising and retail stores for both the Sears and Kmart brands. He will work with our leadership team to better serve our customers and Shop Your Way Rewards Members by integrating their experiences across our stores, online, services, and mobile capabilities. We are in the midst of a transformation of our business, from top to bottom, as we seek to become the leading integrated retailer in the country. By attracting someone with Ron's significant experience in retail, merchandising and product development as well as in leading companies through turnarounds, we're adding a key talent in accelerating our transformation."
What Does Sears Need to Do to Become a Well-Loved (and Shopped) Online Brand?
While Sears struggles to revitalize its neglected stores and to revamp its merchandising to be more competitive, we thought that it would be an opportune time to see how well Sears.com stacks up in helping customers not only buy things, but also manage many details in their busy lives. Since Sears apparently envisions itself as a leading integrated retailer, let's take a look at how easy it is to get things done on the Sears.com site.
EVALUATING THE SEARS.COM ONLINE EXPERIENCE
Exploring Sears.com was surprising for me. I expected to be able to find the merchandise found in the Sears and Kmart retail stores—Kenmore and other appliances, Craftsman tools, clothing including the Lands End brand, and other odds and ends that you find as you wander the retail aisles, like luggage, shoes, jewelry, etc. But I found that Sears.com has followed the Amazon model (remember that Amazon originally sold books and music) and has hundreds of partners who offer their merchandise on the site. So is Sears.com a potential life saver for the place "where America shops?" Since the best way to evaluate how well a company is really doing at supporting customer needs is with a customer scenario, we tested Sears.com by following the scenario: I want Sears.com to make it easy to manage my purchases and related home services to simplify my life.
In this customer experience web self-service audit, our customer persona, Janine, is a 47 year old recent divorcee whose youngest child has just gone off to college. Janine works full time and has limited time for errands, such as shopping. She has also recently downsized to a condo after selling her house. Now she is facing new challenges, such as maintaining her car, contracting for home repairs, and making significant purchases for her new home, on her own for the first time. She wants to find a "partner" who will help her in these new challenges, and she has always trusted Sears. She knows that Sears offers not only shopping, but also car maintenance and home improvements. So she's hoping that the company, specifically the web site (since she is very comfortable online), will allow her to organize and manage all her stuff, from purchases, to auto repairs, to home improvement, etc. She, in effect, is looking for a place where she can manage her life!
Let's see how Sears.com does on meeting Janine's "manage my life" needs...
***ENDNOTES***
1) See "Lands End Brings the Softer Side to Sears," December 2002, http://dx.doi.org/10.1571/bp12-12-02cc; and "Making Progress in Cross-Channel Retail," September 2003, http://dx.doi.org/10.1571/cl9-25-03cc.

2)"Twin Titanics" or turnaround—which way are Sears and Kmart headed?" by Lauren Daniels, Medill Reports, May 5, 2005, http://news.medill.northwestern.edu/chicago/news.aspx?id=185901
***ENDNOTES***
Sign in to download the full article
0 comments