The Future of Marketing and Branding
What Can We Learn from Watching 8- to 14-Year-Olds Interact with Markets and Brands around the World?
Here's a compelling synopsis of some of the findings in our new book, BRANDchild. We offer some interesting market research statistics and observations about the make-up of today's global tween market—a group that purchases and/or influences $600 billion worth of sales each year.
NETTING IT OUT
Marketing as we know it is about to change forever--at least, B2C marketing is about to change dramatically. Why? Because consumers' behaviors are changing in pretty dramatic ways. We expect at least some of these changes will spill over into B2B marketing practices as well.
Here's a summary of a year's worth of market research carried out around the world during 2002. The market research focus was on urban "tween-agers"--kids between 8 and 14 years old--in 14 countries around the world. The research and its implications are discussed in our new book, "BRANDchild:" Remarkable Insights into the minds of today's global kids and their relationship with brands.
Here are some of the most dramatic changes to which you'll need to adapt in order to win the hearts and minds of today's most demanding consumers (and their parents!):
The Customer is the focus; not the product or the brand.
Multichannel interactive marketing and sales are required.
Authenticity and straight talk are important. Your product and brand must be authentic.
Secrets and nuances that can be discovered are vital to keeping the brand fresh.
Peer-to-peer guerilla marketing is critical to success.
Online and offline worlds have blurred--use both.
Brand loyalty is more ephemeral; brand passion is stronger than ever before.
What's the relevance of this research for B2B marketers? Customers are people. What works to motivate and connect with consumers is part of the fabric of how they approach the products, the brands, and the companies with which they interact both in their personal and in their business lives.
For example, we've all witnessed the impact that Amazon.com, Schwab.com, eBay and other consumer Web sites have had on B2B business processes. Because of what they've experienced as consumers on sites like these, today's business customers expect to be able to shop online as well as by phone and in person. They expect to be able to interact with our businesses 24 x 7 across channels and touchpoints with great consistency. And, they expect to be able to dispose of and/or to acquire any product instantly in a global online marketplace.
Tomorrow's adult and business marketing landscape will be shaped by tweens, who will have lived for years in the virtual worlds created in EverQuest, Entropia, Sims Online, Star Wars Galaxies, Lineage, and many other multiplayer fantasy worlds. They will be accustomed to creating their own personas with brands to match. They will want to shape their environments, interact with others constantly, and co-create their brand experiences, both online and offline.
The Customer Revolution continues, but it's about to shift into hyperdrive!
"BRANDchild" Book Cover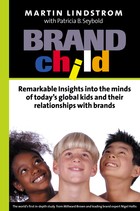 Illustration. Written by Martin Lindstrom, with Patricia Seybold as a contributing author, "BRANDchild" explores global tweens' relationship to brands and branding. The book synthesizes a year's worth of research carried out by international marketing research company Millward Brown. Martin Lindstrom and the Millward Brown team spent a year interviewing, researching, and analyzing how this new generation spends their money and what their relationship is with brands. "BRANDchild" is the result of this global study that spanned 14 countries. "BRANDchild" was published by Kogan Page Limited in March, 2003.
WHY SHOULD YOU CARE ABOUT TWEENS?
Tweens Have Incredible Purchasing Power and Influence
Tween-agers--kids from the age of 9 to 14--currently spend $150 billion per year globally. Tweens also influence an additional $150 billion per year globally with "pester power." And they indirectly influence another $300 billion per year, for example, in situations in which a parent makes a purchase taking into account kids' tastes. That's a total purchasing/influencing power of $600 billion this year!
In addition to the products that tweens buy for themselves and/or consume themselves (food, entertainment, clothing, music, electronics, etc.), tweens actually influence adults' purchases of a large variety of products. (This will come as no surprise to most parents, who don't want to be perceived as "uncool" by their offspring).
In its research with global urban tweens, market research firm Millward Brown asked urban tweens and their parents about the degree of influence tweens actually had over adult purchases in three categories ...
Sign in to download the full article
0 comments