The Not So Friendly Route to Flying the Skies
Lessons Learned from Customers' Moments of Truth in Multi-Leg Travel Planning
My friend and business colleague, Megan, just went through the daunting process of booking a five-city extended trip that included both business and personal destinations. Together, we realized that there are lessons to be learned from this complex customer scenario for any business. These lessons can help you make complex scenarios less frustrating for customers.
NETTING IT OUT
Why This Is Important to Customers. Complex travel planning can be very much like any complex business order/transaction. Customers find this type of ordering to be very daunting. Whether you are in the travel business, retail, financial services, telecom, government, or B2B, the chances are good that your customers also dread complex transactions.
When you look at what customers want in the context of their scenarios and what they are ultimately trying to achieve, you can go a long way to hiding the complexity and making it easy for your customers to do business with you.
Why This Is Important to Your Business. There are a number of lessons that you can learn from the "book a complex itinerary" scenario to help design new and easier ways for your customers to deal with daunting transactions. This makes customers happy; and happy customers come back to you!
THE DREADED MULTI-LEG TRAVEL PLANNING (AND FLYING) EXPERIENCE
My friend and client, Megan, is having a wild travel month! Just last week, she began a multi-leg trip, combining business and personal destinations, requiring multiple airlines and, ultimately, a last minute change. (I was with her on the first leg, as we travelled to a customer co-design session together.) (See Megan's Itinerary in Table A .) As we commiserated at the end of that first leg (I got to go home at that point), I did what I tend to do when faced with a less-than-ideal customer experience—I broke it down into the customer scenario, desired outcome, and moments of truth upon which a customer decides whether or not to continue doing business with the provider.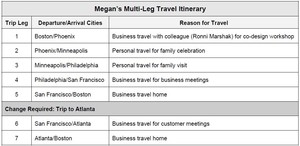 (Click on image to enlarge.)
© 2010 Patricia Seybold Group Inc.
Table A. Megan had to book a combination of business and personal travel flights, all to be taken within 10 days.
I believe that there is great value in the process of looking at these points—especially with a familiar and easily accessible scenario. There are a lot of things to learn about how you can support your customers through dreaded experiences and how you can make them more enjoyable, which I will highlight throughout this article. So here goes!
Scenario and Desired Outcome
The travel planning scenario is pretty obvious: "I want to quickly and easily arrange a multi-leg travel itinerary." And the desired outcome is "I had a successful and stress-free trip with no unexpected hassles."
Approaching a Daunting Scenario
Most customers don't look forward to performing a complex transaction. Seasoned traveler, Megan, likes to book her own travel, rather than rely on a travel agent or secretary. She offers the following insights:
"Most of us who travel a lot and who book their own travel start at an aggregator site [such as Orbitz, Travelocity, or Expedia] to find out which airline has the best/most convenient flights for our trips. Since these are usually business trips, we optimize on schedule more than on price. Then many of us go to the selected carrier (like JetBlue or American) and book on the airline's site directly. I start with an aggregator to be able to see the most options. But I don't trust the aggregator to give me the whole picture. So, I go back and forth between the aggregator's site and the individual airlines' sites. The reason I go back and forth is that I'm not confident that I'm seeing all the available flights on an aggregator's site, the prices and fees sometimes appear to be cheaper through the airlines.

"If it's possible to get where I want to go using a single airline, or by booking on one airline's site and including their partner airlines (e.g. American and British Airways), I'll happily book at the airline's direct Web site. I know that if something goes awry, it will be easier to resolve problems through the airline directly rather than through the aggregator.

"The only reason I find to actually book through one of these aggregators is if the route is not well covered by one particular airline, so that you can't easily book them all on one airline's Web site."
The scenario we are looking at today, therefore, will assume that an aggregator Web site was used for booking all flights in the multi-leg itinerary.
Lesson to Learn: Perception is Everything.
Megan freely admits that her first two concerns, not seeing all available flights and higher prices, are really just perceptions—she hasn't actually discovered them to be the case. But, to customers, perception is everything. Aggregator sites should make it very clear that they are providing all seats on all flights available from all airlines, and that the prices offered are in parity with the prices available on the airline flight.
Having links directly to the airlines' schedules and pricing Web pages, for example, would put customers at ease, although there is a potential loss of business if the customers choose to continue to navigate through the airline's site. Alternatively, comparison charts that are generated real time, highlighting the airlines' site schedules and prices compared to the aggregators' schedules and prices could also help overcome misconceptions.
Do your customers have any misconceptions about your business processes, products, pricing, availability, etc.? If so, what are you doing to help squash these misconceptions and overcome any concerns about doing business with you versus your competition? If you don't know what misconceptions your customers have, find out through different voice of the customer methods, including interviews, focus groups, communities, advisory boards, or, our favorite, co-design sessions.
Universal (or Almost) Conditions of Satisfaction
In all air travel, there are a number of givens that almost all customers want. Some are pretty obvious ...
Sign in to download the full article
0 comments