Understanding Your Next Generation Customers
How Do Tweens Feel about Brands?
Today's tweens (ages 8-14) are tomorrow's customers and employees. It's important to understand how they react to branding. Branding is a very personal experience that reflects the individuality of these young consumers.
NETTING IT OUT
On March 19, 2003, Patricia Seybold's latest book was released. Called "BRANDchild," this new book focuses on children between the ages of 8 and 13--the so-called Tweens. Authored by Martin Lindstrom, with Patricia Seybold as a contributing author, "BRANDchild" explores global tweens' relationship to brands and branding. The book synthesizes a year's worth of research carried out by international marketing research company Millward Brown. Martin Lindstrom and the Millward Brown team spent a year interviewing, researching, and analyzing how this new generation spends their money and what is their relationship with brands. "BRANDchild" is the result of this global study that spanned 14 countries and took 600 people a year to carry out. "BRANDchild" documents the most brand-savvy generation that's ever existed.
Patricia Seybold's contribution, as an expert in helping companies provide better brand experiences, was to supplement this analysis with some unique research of our own and to contribute case studies to document how some of today's companies are learning how to relate to today's tweens. In this excerpt we bring you the highlights of some of our own research into American tweens' connection to brands. This research was carried out by our brand market research partner, Gang&Gang, Inc. Our findings: Tweens are the most passionate about the brands they wear. But, interestingly enough, today's tweens use these wearable brands to express their individuality, not their tribal connections.
THE BRANDS TEENS WEAR
What's in a Shirt?
When your son heads to the laundry room to grab a shirt out of the dryer to wear to school, which shirt does he pick? A plain black T? Or the ratty green one with the name and logo of his favorite computer game or rock band emblazoned on it?
What about your daughter? When she's getting dressed for a day of hanging out with her friends, will she pick the plain blue comfortable Lands' End T-shirt you bought for her, or will she'll go for the worn yellow T-shirt she found at the mall a year ago--the one with the cartoon angel winking or the purple one her friend gave her with the "Girls Kick Butt!" slogan on it?
You know the answers to these questions. But do you know why tweens have such strong preferences in the brands they put on their bodies?
Surveying Tweens on Their Relationships to Brands
We decided to find out by carrying out a simple research project: we asked tweens how they felt about plain vs. logo'd T-Shirts–T-Shirts with any slogan, logo, brand, or image on them. As you might imagine, they felt very strongly about wearing shirts with imagery on them. But what surprised us was the degree of passion they felt towards the particular imagery they chose to wear to express themselves.
THE SURVEY TECHNIQUE. Our research partner, Gang&Gang, surveyed three panels of U.S. tweens in the same age group using their patented "Resonance®" technique. Resonance uses open-ended topics to elicit spontaneous emotional reactions, then deploys a proprietary normalization protocol to gauge the relative passion of those reactions and to then link those spontaneous emotional reactions to "rational" explanation–once the emotions react, what are the phrases that turn up in the mind linked to those explanations?
What's different about the Resonance® survey technique is that it is able to capture survey respondents' spontaneous emotional responses to the experience being surveyed and to accurately calibrate those emotions on a spectrum ranging from passionately negative to passionately positive. Gang&Gang characterizes the degree of passion that survey respondents have as the "emotional jet fuel" that marketers can tap into. If the experience is passionately positive, and you understand what makes it so, you have a running start. If the experience is passionately negative, and you understand why, you know what to avoid, what to fix, or what to market against.
THE SURVEY DEMOGRAPHICS. The other thing that is different about this survey technique is that we have found it to be extremely predictive. Using this technique, which gets at the root of emotional motivations, we can use a quite small sample size and still get results that will predict behavior across a very large population. In September, 2002, we surveyed 138 tweens, in what we believe is a representative sample of this age group in the U.S. The survey topic was how they felt when wearing their favorite branded or logo'd T-Shirt vs. wearing a plain non-branded T-Shirt.
Here's the demographic breakdown:
54 percent boys, 46 percent girls
54 percent 9-10, 46 percent 11-13 (evenly distributed by gender within age levels)
BRANDED VS. NON-BRANDED APPAREL. Tweens have a deeply passionate relationship with brands. If you give a tween the choice (as we did) of picking a plain T-shirt over a T-shirt with a brand name, picture, slogan or logo on it, 98 percent of them will choose the shirt with a brand or logo over the plain style.
Spontaneously Passionate about Imagery, Logos, & Brands They Wear
In the survey, our U.S. tweens were very passionate about wearing their favorite T-shirts (as any parent who has neglected to do the laundry can attest!). (See Illustration 1.) A whopping 59 percent of the tweens we surveyed were passionately positive about the feeling of wearing their favorite T-shirt--one with a logo or an image on it. While 40 percent of them felt positive about the experience. By contrast, tweens' response to wearing a plain T-shirt without an image or graphic was 23 percent passionately negative and 47 percent negative.
How Tweens Feel about Wearing Their Favorite T-Shirt with a Logo or Graphics vs. a Plain Unadorned T-Shirt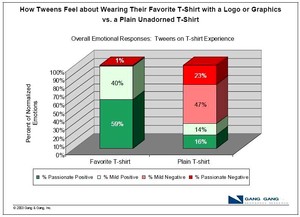 Illustration 1. How do Tweens Feel about wearing their favorite T-Shirt with a logo or graphic vs. an unadorned T-Shirt? 59% of U.S. tweens surveyed were passionately positive about the feeling of wearing their favorite T-shirt--one with a logo or an image on it. 40% of tweens surveyed felt positive about the experience. By contrast, tweens' spontaneous, emotional response to wearing a plain T-shirt without an image or graphic was 23% passionately negative and 47% negative.
What were the rationales they gave for the feelings we had spontaneously elicited? ...
Sign in to download the full article
0 comments