Virtual Assistant Update
Technologies, Products, Suppliers, Customers, Markets
What's hot in customer service? Virtual Assistants extend customer self-service options by providing accurate answers to context-rich questions that customers have. Today's virtual agents are omni-channel: they can be accessed via smartphone, regular phone, web, or texting. They can handle voice or text input and respond with accurate answers to many customers' questions, including those that are unique to an individual customer's situation. Here is an update covering 2017 market leading virtual assistants from [24]7, Creative Virtual, IBM, Next IT, and Nuance.
NETTING IT OUT
Our virtual assistant update provides the latest on virtual assistant technologies, products, suppliers, and markets. This is a thriving space with very good prospects for future growth. Virtual assistant technologies are AI technologies—Natural Language Processing and machine learning—and AI may be the hottest trend in software. Virtual Assistant products are continually improving, especially so in channel support, personalization, and applications. Significant new products are coming soon.
Virtual assistant suppliers are, for the most part, a familiar list with one addition via acquisition—[24]7 acquired IntelliResponse. Virtual assistant customer growth has been a highlight with many familiar names among new deployments. Virtual assistant markets have expanded into new verticals but finance, travel, and telecommunications are still the mainstays.
In this report, we'll examine the virtual assistant business for each of the five currently leading virtual assistant suppliers—[24]7, Creative Virtual, IBM, Next IT, and Nuance.
What's New with Virtual Assistants?
Background
This report updates our research about virtual assistants, their technologies, suppliers, products, adoption, and usage. We began our research in 2007. We were motivated by what appeared to be significant potential benefits for virtual assistants in customer service. We felt that virtual assistants could improve customer service by:
Lowering cost to serve (over assisted-service approaches)
Improving customer service responsiveness
Increasing customer service consistency
Enhancing the customer service experience
Virtual assistants could improve on the then current best practice in customer self-service, the combination of search and knowledge management. Virtual Assistants could deliver a suitable answer, or a single answer, or the right answer to customers' questions quickly and consistently, while knowledge management systems were delivering several answers or multiple answers or pages of potentially correct answers, forcing customers to choose their answers.
Technology was the reason for the improvement. Natural Language Processing (NLP) and machine learning technologies of virtual assistants were their mechanisms for delivering fewer and better answers. Where search engines were keyword oriented, the technologies of virtual assistants made deeper analyses of customers' questions, for example by examining phrases, parts of speech, and relationships more exactly to determine their intents and to match them with knowledgebase answers.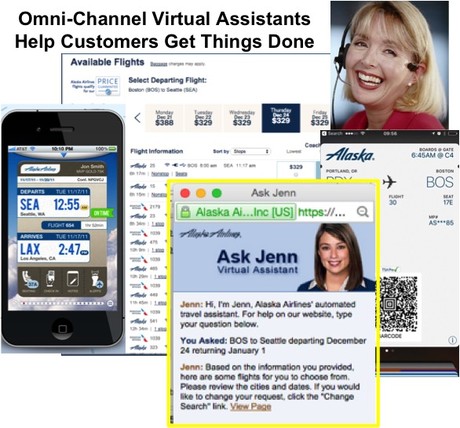 Virtual assistants also provided a nice line of escalation from self-service browsing, then searching (or searching then browsing), then to virtual assistants, and then to assisted-service chat with live customer service reps. In addition, virtual assistants operated in the same kind of UI and within a similar context as actual customer reps in live chat. In fact, we described virtual assistants as providing not self-service but virtual assisted-service.
Early Research
We identified (alphabetically) Creative Virtual, IntelliResponse, Next IT, and VirtuOz as the pioneers and the leading suppliers of virtual assistant software. By 2007, all of them had viable offerings with good-sized customer bases. Briefly:
Creative Virtual, founded in London, UK in 2003, introduced its first virtual assistant offering in 2004
IntelliResponse, founded in Toronto, ON, introduced its IR VA virtual assistant offering in 2004.
Next IT, founded in Spokane, WA, introduced its virtual assistant offering in 2004.
VirtuOz, founded in Paris, FR in 2002, introduced its virtual assistant offering in 2004.
We published framework-based, in-depth Product Evaluation Reports on all of these virtual assistant products. Also, we included the suppliers and their products in our regular Quarterly Customer Service Updates. (You'll find a list of the available reports at the end of each section of this update or you can access them directly at this URL.)
Early Findings
Our research found that NLP and machine learning technologies were indeed the differentiator for virtual assistant software from alternative customer service software approaches. We also found both positive and negative aspects to that differentiation. Virtual Assistants were able to select the best answer to customers' questions quickly and consistently. But, the complexity of the technologies extended the time and increased the costs of virtual assistant deployment and ongoing management.
Virtual assistant technologies were (and are) proprietary and frequently patented, and suppliers were not always forthcoming in revealing the details of their technologies. Suppliers considered these technologies to be their core IP and the reasons for the value-add in their offerings. We spent much of the time in our research reading patents and patent applications trying to understand virtual assistants' capabilities, how they worked, and how they could be deployed.
Virtual assistants' technologies commonly required language science and developer skills and experiences for successful deployments. Suppliers built staffs of consultants with these qualifications to help their customers. Consulting services for deploying and managing virtual assistant software became key elements of suppliers' businesses and suppliers were slow to build the tools to simplify the work by developing tools and by documenting the functionality and usage of their technologies. As a result, costs of initial deployment approached $1 million or more, and adoption was slow and not widespread. Of the pioneering and leading suppliers, only IntelliResponse took the approach that its virtual assistant offering was software packaged to support or to approach self-service deployment.
Current Developments and Trends
Much has happened since our early findings. We've seen significant merger and acquisition activity among suppliers, the entry of a significant new supplier (IBM), and the usefulness of virtual assistants in new applications and new markets. Interestingly, the core Natural Language Processing and machine learning technologies have not changed much, but these are exactly the technologies of the current, white hot "AI" trend. Everything old really is new again.
Suppliers
Since our early research, there have been these significant virtual assistant supplier changes: two acquisitions and IBM's entry into the virtual assistant market.
Nuance Communications, Inc. a publicly held (NASDAQ: NUAN), Burlington, MA based supplier, acquired VirtuOz in early 2013 and rebranded VirtuOz IVA to Nuance Nina Web.
IBM brought Watson Engagement Advisor to market in 2013. Watson Engagement Advisor was based on Watson, IBM's cognitive computing system and its cloud computing services.

[24]7 acquired IntelliResponse in late 2014 and rebranded IntelliResponse VA to [24]7 VA.
Technology
There have been few changes in core virtual assistant technologies. The NLP and machine learning technologies that analyze and match customers' questions with knowledgebase answers have remained essentially the same. The most significant core technology change is the introduction of cognitive technology with IBM Watson. Cognitive technology extends analysis and matching with reasoning algorithms that select possible answers from a very large knowledge corpus, then scores those answers to identify the best one(s). Watson creates this corpus from most any content, not just the purpose-built content of conventional knowledgebases. Also, Watson's reasoning algorithms are more flexible than machine learning models. They can dynamically adapt and learn based on usage.
Most of the technology changes have been around the edges of virtual assistant technologies. All of the leading products now accept questions and deliver answers in speech. All of them have broad language support. All of them provide native support for mobile devices.
Applications
Virtual assistants can now do more than deliver the right, single, and/or best answers to customers' questions. Beginning around 2013, they started performing tasks on customers' behalves. For example, the Creative Virtual V-Person virtual assistant deployment at Chase Bank uses customer profile information to deliver personalized answers.
Read More.......(Full Article Download Available to Members of our Customers.com Technologies Advisory Service)
Sign in to download the full article
0 comments