When Do You Need an App for That?
Do Mobile Apps Make It Easier for Customers to Do Business with You?
Mobile apps are hot! But, before you commit to the investment of creating mobile apps to make it easy for customers to self-serve, think twice. Most smartphone customers already have too many apps. If you want yours to be used, target active customers and frequent, repetitive, critical, and/or local activities.
NETTING IT OUT
Mobile Apps are hot! If your job involves customer service, customer experience, customer support, customer relationship management, e-commerce, mobile commerce, social media, and/or digital strategy, you are probably under a lot of pressure to deliver mobile apps.
If your company's business is delivering content, entertainment, and/or selling products to millions of consumers, you definitely need a mobile app strategy. If you are in the financial services business or the travel business, you probably need to offer mobile apps.
But what about every other kind of business--those serving both consumer and business customers? Do you need to offer mobile apps for your customers' smartphones, or should you be focusing instead on developing and evolving great mobile-friendly web sites and customer portals?
Here's our take: Don't try to attract or win new customers via mobile apps. Don't try to increase repeat business by customers who deal with you only occasionally via mobile apps. But DO use mobile apps to help your most active customers deal with urgent, critical, and/or repetitive activities and to help them manage complex multi-party scenarios.
CUSTOMER SERVICE: MOBILE APPS? MOBILE WEB? OR BOTH?
You Need Mobile-Friendly Web Sites to Do Business
Of the almost 6 billion people on the globe who use mobile phones, there are 2.4 billion people who routinely access the Internet from their phones, according to the International Telecommunications Union (ITU).
So, having mobile-friendly web sites is becoming crucial everywhere in the world. You can do this by designing separate mobile web sites or by developing all of your site(s) to be mobile friendly. The case study we wrote about Nature Education's Scitable1 provides a good example of how and why to develop a mobile-friendly web site. Scitable's strategy is to provide global access to all of the 2.4 billion Internet-capable mobile users, especially those without smartphones.
Countries that Offer 2G/3G Services Commercially, Mid-2011*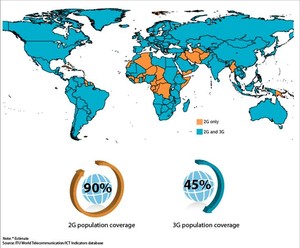 With Broadband Mobile Access, Mobile Apps Become Less Necessary. According to the ITU, 159 economies now offer 3G broadband service, resulting in 1.2 billion active mobile broadband subscriptions in 2011. If you have mobile broadband (3G or better) Internet connectivity on your mobile phone, mobile web browsing may be fast enough for most customer interactions, alleviating the need for mobile apps. According to the ITU, "the percentage of the population covered by a 2G mobile-cellular network is twice as high as the population covered by a 3G network. 3G population coverage reached 45% in 2011. While people in developed countries usually use mobile-broadband networks in addition to a fixed broadband connection, mobile-broadband is often the only access method available to people in developing countries. Note that the percentage of the global population covered by a 2G mobile-cellular network is twice as high as the population covered by a 3G network. 3G population coverage reached 45% in 2011."
CUSTOMER SERVICE: MOBILE APPS? MOBILE WEB? OR BOTH?
Only Smartphone Users Can Use Mobile Apps
About 18 percent of mobile phones in the world are now smartphones—the kinds of phones that enable you to download, store, and interact with a mobile app on the phone. So that's 720 million smartphones. And that percentage is increasing rapidly (8 percent in 2008, 12 percent in 2010).
Do You Need to Offer Mobile Apps?
So, if your company sells to and interacts with customers who have smartphones, you probably already have one or more mobile apps.
If you don't yet have a mobile app, you may be in the midst of the debate about whether or not to make that investment and ongoing commitment. In most circumstances, having mobile-friendly web sites and/or customer portals is good enough. If customers don't need to visit your web site every day in order to get important things done, it may not be necessary or desirable to create mobile apps to make it easier for them to do so.
THINK CAREFULLY; IT'S A BIG COMMITMENT. Developing mobile apps is a costly undertaking. And it's not something you do once. You are never done. You don't have one mobile app; you'll have as many mobile apps as you have different sections/activities in your web site(s) or customer portals. Each mobile app is typically designed to handle one type of customer activity. And, despite the goal of "write once/run everywhere" application development, you'll actually need to develop, or at least tune, each app for all the different mobile platforms and operating system versions you decide to support.
So, when you commit to offer mobile apps to your customers, you're committing to a large and ongoing investment and learning curve. And, as with many other customer-critical activities, you may choose to nurture the core competency for developing mobile apps in-house, which means you'll be staffing up for the long haul.
Many Smartphone Users Prefer Mobile Apps to Mobile Web
Why are mobile apps enticing? Many people really enjoy the interactivity and rapid response they can get when using a mobile app. Games are a prime example. Games that are self-contained on a mobile device are fast and satisfying. Multi-player games delivered as mobile apps are also more satisfying because there's lots to do while you "wait" for others to react to your moves.
For content consumers, reading e-books and/or daily newspapers online, a mobile app typically has the advantage of letting you read offline (on the plane, in the doctor's office, on the beach, anywhere you're off the grid).
By contrast, using your smartphone to surf the web, logging into a web site and interact with it can be a slow and tedious undertaking, requiring many mouse clicks and several round trips across the Internet—often with annoyingly slow response times, depending on your connectivity. So, according to Flurry, a mobile analytics firm, it's not surprising that smartphone users have begun to spend more time each day...
Sign in to download the full article
0 comments