Why Alaska Airlines Considers Mobile Development a Core Competency
Speed Up Improvements in Customer Experience through Mobile
Alaska Airlines has been a pioneer in mobile self-service in the travel industry. Catching up with Curtis Kopf, Managing Director, AlaskaAir.com, and Customer Innovation at Alaska Airlines, we look at how Kopf and his team are mastering agile development, making mobile technology a core competency within the organization, and catalyzing accelerated development in other parts of Alaska Airlines.
NETTING IT OUT
Just as the Web changed how your employees and your customers interacted with information and with each other, mobile technology is creating the same sort of sea change. As customers start using their smartphones to conduct all sorts of business, even the most traditional organizations have to get on board and provide mobile self-service tools. And, just as developing Web applications requires rapid development and iteration, mobile has accelerated the development curve even more.
Alaska Airlines, a pioneer in Web and mobile self-service for the travel industry, is continuing to work quickly and with agility to bring new customer-focused applications and tools to the mobile world. Focusing on agile development, Curtis Kopf, Managing Director, AlaskaAir.com, and Customer Innovation at Alaska Airlines, tells the story of how his team is making mobile development a core competency within the organization and is engaging the entire air travel ecosystem in iterative design.
HOW THE FOCUS ON MOBILE IS TRANSFORMING AN 80-YEAR OLD AIRLINE
Empowering Customers with Technology Accelerates Organizational Change
Where does innovation take root in a traditional organization? Often, we find the most active growth of innovation occurs when new technology is harnessed to empower customers and end-users.
Customers' Use of Web Technology Broke Down Silos. That's what happened when companies first began using the Web and developing customer service and e-commerce sites back in the late 1990s. Once your business made it possible for customers to check order status online, to see and compare products and prices online, to order online, and to help one another troubleshoot and fix problems online, you had unleashed organizational transformation. The fact that customers could get information, take actions, and see up-to-date information quickly made it necessary to provide the same visibility to everyone in your company, as well as to your channel partners. The innocuous website that often began as a small marketing initiative became a battering ram that broke down information silos throughout the organization and required IT organizations to adapt quickly.
As a case in point, I remember vividly when Intel capitulated to this wave of change, and the CEO told the head of corporate IT (who wasn't moving fast enough to provide integration from the Web to Intel's backend systems) that he was now reporting to the head of Web development. The customer-empowered Web tidal wave was strong—CIOs, COOs, VPs of Sales all had to embrace the new world order or get out of the way.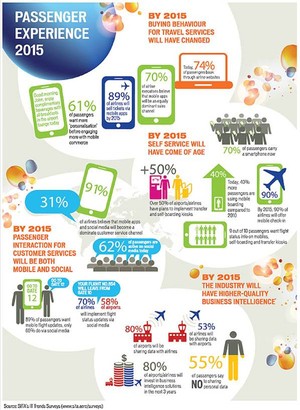 1. This , leading air transport communication and IT solution specialist, is based on a survey of airline and airport executives. By 2015, both airlines and airports expect the web and the mobile phone to be the top two sales channels. 90% of airlines will offer mobile check-in, up from 50% today. Passengers will use 2D boarding passes or contactless technology such as Near Field Communications (NFC) on their phones at different stages of their journey, such as at boarding gates, fast-track security zones and to access premium passenger lounges. By 2015, nine out of 10 airlines and airports will provide flight updates using smartphone apps. The passenger experience will improve thanks to better business intelligence. More than 80% of airports and airlines will invest in business intelligence (BI) solutions by 2015. Most will focus on improving customer service and satisfaction, often through personalized services. Source: www.sita.aero/surveys

Customers' Use of Mobile Devices Accelerates Organizational Change. The same thing is occurring again as customers' use of mobile phones is requiring even the most traditional of businesses to provide customers with mobile self-service tools. "This is such an incredible time to work in a traditional company because you're able to transform so much of how things are done," said Curtis Kopf, Managing Director, AlaskaAir.com, and Customer Innovation at Alaska Airlines. Curtis may be a young man, but he is fortunate enough to have participated in both of these transformative movements—Web and mobile. He's also lucky to have learned from one of the masters, Jeff Bezos at Amazon.com. "When I worked at Amazon, I was able to see Jeff Bezos in action," Curtis reports. "I'm still using many of the principles I learned from my time at Amazon. Mobile today is like e-commerce was in the late 1990s. Back then, Jeff Bezos used to tell us at Amazon, 'We are at Day 1 of e-commerce.' The same is true today for mobile. We are all at Day 1 of mobile."
Focus on Mobile & Agile Development Accelerates Customer Experience Improvements
How does mobile development impact the broader organization? "Mobile forces acceleration." Curtis Kopf exclaimed. "Whether you are a big box retailer, an insurance company or an 80-year-old airline, you have no choice but to get good at this." Acceleration is key. "When I look at why a company like Amazon has been so fiercely disruptive, it's their ability to fail and learn fast," Curtis points out.
"The biggest change for us has been around acceleration. If I look at the last nine months, and decide what to call it," Curtis explained, "I would call it our Acceleration Chapter. We now have booking on all of our platforms (Web, mobile web, iPhone, Android). We launched upgrade/standby status check. This gives customers the ability to see where they are in the standby and/or upgrade queues. We launched it first on the mobile website. By April 2013, it will be in both apps (Android & Apple iPhone). We also implemented Pay for Bags. We've saved money and time. We're releasing faster and ahead of schedule."
Shift to Agile Development. Developing mobile websites and mobile apps requires accelerated development and new ways of doing things. Agile development is the norm for mobile applications. For many organizations, developing mobile websites and mobile apps is the first opportunity they have to adopt and master agile development. They embrace new, faster, flexible approaches to application development because the pace of change on mobile devices requires it. Also, the mobile app model of focusing each app to provide specific functions, rather than…
(Download the PDF for the entire article.)
Sign in to download the full article
0 comments