Why "Pay with Amazon" Is a Big Deal
How Amazon's Payment Services Will Impact Mobile E-Wallets
Mobile phones are becoming digital wallets. Soon we won't need to carry around physical wallets anymore. We'll soon be able to pay for everything from our mobile phones. We think that "Pay with Amazon" could become an attractive way for consumers to safely pay for things from their mobile phones using credit cards and bank account information they already have stored with Amazon.
NETTING IT OUT
On October 8, 2013, Amazon announced the rollout of "LogIn and Pay with Amazon." This is billed as a "payment service" that competes most directly with PayPal for use by online merchants. But it's much more than that. I believe that this is the beginning of a strong push by Amazon to make consumers' mobile phones into ubiquitous e-wallets. Pay with Amazon is actually a rebranding of payment services that have been available to e-commerce and mobile developers from Amazon for a while. Now, Amazon is promoting them for use by consumers. I don't suppose they got the idea from me, but this is what I wrote a year ago:
"It doesn't seem to me like a far stretch for Amazon to provide an app to deliver all that [payment] capability (and more) to mobile phone users across phone platforms. Remember that the Kindle app runs on virtually every mobile operating system. Why not a 'Pay with Amazon' service?"

~ Patty Seybold, September 6, 2012
What Does This Mean for Consumers? If you're already an Amazon.com customer, you can now use the same streamlined purchasing process you have with Amazon on any web site or mobile app that sports the Pay with Amazon button. You use your Amazon login and password, and you can select among any of the stored credit cards or other payment types (debit my bank account) you have at Amazon, as well as the same "ship to" information you already have stored for all of your family and friends. You can also send money to friends from your Amazon account and pre-load your Amazon payment account with the amount of money you want to be able to spend (and not exceed).

What Does This Mean for Merchants? You can add Pay with Amazon to your website or mobile application easily, in the same way you can offer "Pay with PayPal." The ease of integration and the per-transaction fees are almost identical. Physical retailers could also easily integrate Pay with Amazon into any POS system, letting customers enter their Amazon login and password at check out. But will they?
What's Missing? Amazon does not offer a mobile e-wallet "app" that resides on your phone and contains all your credit card info and contact information on your mobile phone as well as in its back-end systems (in the cloud). Think of "Pay with Amazon" as a Virtual E-Wallet. Your credit card info remains in the cloud. That's actually a good thing. The biggest missing element is the lack of a contactless Point of Sale solution for physical retail, such as a "beacon" Bluetooth solution, where you could just wave your phone to pay.
The Next Generation of E-Wallets Will Let Us Pay with Our Mobile Phones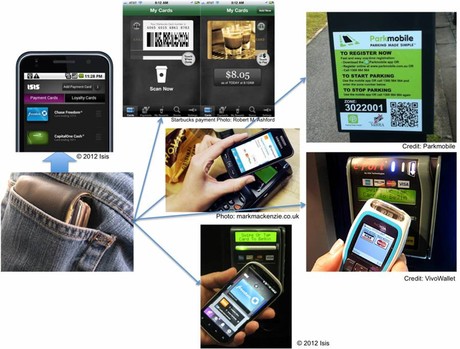 In the U.S., we're behind in adopting mobile phone payment systems. However, the e-wallet services that are emerging should let us: a) manage multiple credit/debit/stored value cards and loyalty/rewards cards and awards, b) pay at the point of sale or pay each other securely.
WHAT IS A MOBILE E-WALLET? YOUR PHONE!
Pay for Everything Using Your Mobile Phone
In September 2012, I picked the top eight mobile e-wallet services contenders1 in the U.S. market. Here's how I described the mobile e-wallet opportunity in that article:
"When I use the term e-wallet, I'm talking about enabling consumers to pay for things using their mobile phones and to pay each other via mobile phone. No cash, no plastic credit cards, no checks needed. You carry your money, credit cards, debit cards, rewards points, and loyalty cards around with you digitally. At the point of sale, you choose which payment type you want to use: take cash from your checking account, use money you've pre-loaded on a stored value 'card,' charge it to your phone bill, charge it on a credit card account and pay later, and so on. Like a physical wallet, you can put things into it and take things out of it. And you can carry it around with you wherever you go. There's now a hefty consensus that our mobile phones will become our e-wallets."

~ Patricia B. Seybold, Who Are the Key Players in Mobile E-Wallets in the U.S.?
Pay with Amazon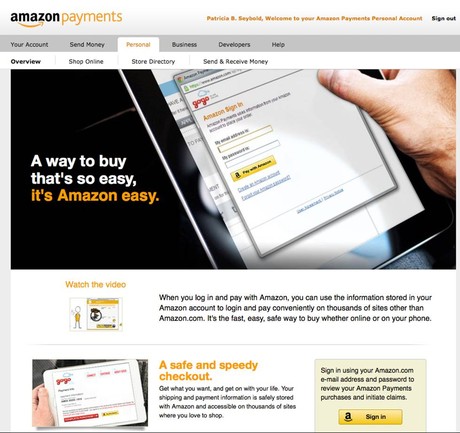 © 2013 Amazon Inc.
Pay with Amazon is a rebranded, consumer-oriented positioning of Amazon Payments. Once a merchant implements this feature (which is very simple to do on any pre-existing website or mobile app), consumers can pay for things using any of their pre-stored info on their Amazon accounts.
Here's an excerpt of what I said at that time about Amazon's chances to become one of the preferred solutions for paying for things using our mobile phones… (more)
(Download the PDF to read the entire article.)
***Endnote***
1) Who Are the Key Players in Mobile E-Wallets in the U.S.? Amazon, Apple, Google, PayPal (e-Bay), Mobile Phone Networks, Credit Card Companies or Upstarts? By Patricia B. Seybold, September 6, 2012, DOI: http://dx.doi.org/10.1571/vs09-06-12cc
Sign in to download the full article
0 comments