Will Amazon.com Emerge as a Viable Gaming Platform?
Enabling Platform-Agnostic Social Gaming Customer Ecosystems
Amazon is investing heavily in game development. We believe that this is more than a "content" play to ensure that Amazon's Fire and its smartphone offering have state-of-the-art games. Amazon wants to lure developers and consumers into a social gaming ecosystem powered by AWS and hosted in Amazon's Elastic Compute Cloud.
NETTING IT OUT
In early August 2012, Amazon introduced Amazon Game Studios—to develop and distribute games, including social networking games. Could this be the first play in a strategic bet that Amazon is placing: to join Facebook, Zynga, et al. in providing a gaming ecosystem?
Amazon already offers consumers the convenience of one-click purchasing using their payment type of choice for in-game purchases. Amazon's elastic cloud already hosts the majority of the fastest-growing online gaming segment: social games. Just as Amazon makes it easy for small merchants to offer their wares using Amazon's e-commerce Web services and logistics, Amazon could also make it easier for game developers to develop and deploy games across a variety of social platforms, including Facebook.
Amazon Game Studio's Living Classics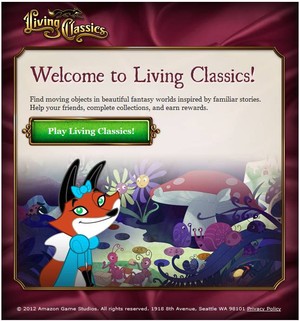 © 2012 Amazon Game Studios

1. Amazon Game Studio's first social game is Living Classics—a Facebook game based on classic children's stories. You click on moving objects to earn points and move to the next level.
READING BETWEEN THE LINES: GAMING MAY BE STRATEGIC FOR AMAZON

The Announcements
AMAZON GAME STUDIOS. When Amazon announced Amazon Game Studios on August 6, 2012, it caught my attention. A game studio is a creator and publisher of games—much like a record label. Becoming a game studio is a very different business than is selling games that are developed by a variety of game companies on Amazon Digital Games. Being a developer of social network games for mobile platforms is also different from selling mobile apps (many of which are games) on Amazon App Store for Android.
In fact, many pundits criticized Amazon for going into competition with its "customers1"--the companies who distribute and sell their games through Amazon's retail platform. "That would be like Amazon.com becoming a book publisher and competing with all the publishers who sell their books through Amazon.com!" the pundits decried. Well, guess what? Amazon.com IS a book publisher. Anyone who has a book they want to get published can do so through Amazon directly. You no longer need a publishing house to market your book or even to distribute your book. The only unique function a traditional publishing house offers is a large feet-on-the street sales force that convinces physical bookstores to order a few copies of your book (which they can return if they don't sell).
The Amazon Game Studios team will no doubt develop games that will play well on Amazon Fire and on Amazon's anticipated mobile phone. But I don't believe that selling games to complement Amazon's consumer electronics is the "end-game" for Amazon. I believe that Amazon Game Studios' games will be designed to be exemplars of the kinds of games that game developers could create if they develop games using Amazon's multi-player gaming infrastructure/platform.
FIRST GAME RELEASED: Amazon Game Studio's first release is Living Classics—a kids' game designed to bring children's literature to life. (See trailer on YouTube; you can find it on Facebook here.) You click on animated stories, click on moving objects, and find the five missing foxes. You can also feed the foxes cookies and invite friends (Facebook friends or in-game friends) to feed your foxes. It's a simple kids game that has garnered very mixed reviews.
But let's look beneath the veneer. What if Living Classics isn't just a game, but the first game to be delivered on a new gaming platform on which any games development team from any company can create their own social games, leveraging a bunch of built-in capabilities.
Cross-Device. You can run and play Living Classics from any device on which you can access Facebook apps (Android, Apple, Windows; mobile phone, tablet, laptop, PC, TV, etc.)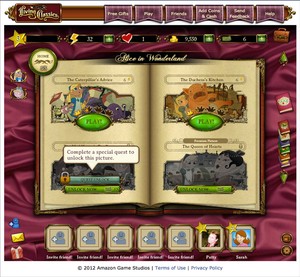 © 2012 Amazon Game Studios

2. The has social networking built in. Notice Sarah at the bottom, next to me (Patty)? Sarah is not a Facebook friend of mine. She is someone who happened to also be playing Living Classics at the same time. With social games, you can make new "in-game" friends as well as invite the friends in your current network to play along.
Mobile. Like many social games (e.g., Farmville, etc.) Living Classics is designed to run well on a mobile device. Customers can play on any device on which they can access Facebook.
Like most social games, it's also a game you can dip into and out of; not something you have to "win" in a particular amount of time. You can play it online or offline, on the plane, in the car, on the train, on the school bus, while waiting for something or someone.
In-Game Commerce. You can earn in-game rewards (what Amazon's Terms of Use calls "virtual items") by solving puzzles, or you can buy in-game coins or cash (using real money) to spend on virtual items you need to move to the next level. The monetization strategy for Living Classics is the sale of virtual items. You may also be able to use Facebook credits to purchase virtual items. End-users can earn or purchase these virtual items. Amazon could easily create a cross-game currency by enabling consumers to use their Amazon 1-Click settings.
Social Networking. Built-in social capabilities include the ability to invite Facebook friends to join you and the ability to see and connect with "in-game" friends—others who play the game but aren't in your circle of Facebook friends. You can play on your own or with help from your friends...
1) To its great credit, Amazon has never been confused about who its customers really are: the end-consumers who purchase goods and services from Amazon. Retailers and developers are strategic partners to Amazon—businesses with whom they partner in order to better serve their mutual end-customers.
Sign in to download the full article
0 comments