Will Klarna Become a Major Player?
Invoicing for Consumers Who Want to Pay After Receipt of Goods
Why does e-commerce require that consumers pay for things before they've received and checked them? Klarna is an online payment system that starts with a different premise. Consumers can buy things online (or from their mobile phone), but don't have to pay for them until 14 days after they've received them. They receive a bill with the package, or via email, and pay the bill in the way that's most convenient for them. Consumers have no fear of having their credit card information or payment details stolen. Merchants don't have to worry about credit card security or fraud.
NETTING IT OUT
What if someone designed a new payment system that consumers liked better than credit cards for online and mobile purchasing? What would its characteristics be?
For consumers, it would be simple and safe to use. You wouldn't need to carry anything around with you. You wouldn't need to remember anything. You wouldn't pay for anything until you were satisfied with your purchase—a meal eaten and enjoyed, a product received and tried on, digital goods downloaded and consumed. You could pay for everything you purchase at once or spread the payments out over time. You could use any payment mechanism(s) you choose, but nobody but you would have a record of what they are.
For merchants and service providers, it would be quick and easy to get paid, there would be no fraud and no risk of having consumers' identities or payment mechanisms compromised.
It would be friction-free for all parties.
There are a number of players around the world who are vying for the honor of becoming such a payment provider. One of them is Klarna, a Swedish company, whose payment services are in currently in use by 9 million customers in seven European countries for a total online transaction volume in 2012 of $2.5 billion.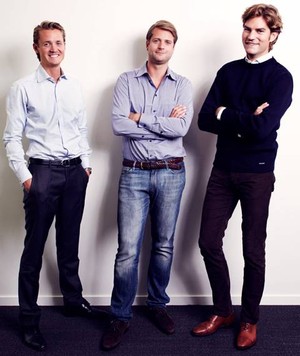 Klarna was founded in 2005 by three students at the Stockholm School of Economics. The three co-founders of Klarna are from left to right: Niklas Adalberth, Deputy CEO; Sebastian Siemiatkowski, CEO; Victor Jacobsson, Board Member.
WHY IS KLARNA INTERESTING?
It's an Alternative (Delayed) Payment System
Klarna's business is based on the principle that consumers don't trust online or mobile payment systems and they really don't want to pay for anything until they have received and accepted it. Klarna takes the risk of not being paid away from the merchant. Klarna pays each merchant after a consumer has purchased and accepted the goods or service. It's an "after delivery payment service."
How Does It Work? The consumer purchases something using Klarna as her payment mechanism. All she has to provide to the merchant is her ID and shipping address. The customer doesn't have to enter any payment details. Klarna generates an invoice that is sent to the consumer. Klarna pays the merchant minus its 3 percent commission. The consumer pays the bill to Klarna.
"When shopping at an e-commerce site that uses Klarna, a customer can check the Klarna Invoice box at checkout. She then enters her government identification number and Klarna runs a quick credit check. If the consumer's credit passes, the customer can finish her order without having to pay online. Customers pay Klarna by bank transfer after they receive their goods. Klarna assumes the transaction risk, including fraud, and conducts its own credit checks and fraud protection measures for each transaction."

~ Stephen Cotterill, Internet Retailer
What Are the Benefits? The advantage to the consumer is that you don't have to pay until 14 days after you receive your purchase, and you don't have to provide or leave your payment information on file with anyone. So it is more secure and more trustworthy.
The advantage to the online merchant is that Klarna takes the risk out of the payment equation. The online merchant doesn't have to worry about consumer fraud, nor about protecting the consumer's payment information.
Idea Born from Connecting a Capability to a Consumer Need
CEO and co-founder, Sebastian Siemiatkowski, explains where the idea came from. He was working at a factoring company—a company that buys receivables from other companies, takes the risk of collection, and provides credit to the seller of the invoices in the form of a cash advance that is usually 75 to 80 percent of the total value of the receivables, minus a commission. It was the combination of his firsthand knowledge of the inner workings of the factoring business and his personal experience with online shopping that led to the idea for Kreditor (which was rebranded as Klarna in 2009). Since factoring services exist, Sebastian thought, and since many consumers don't trust online shopping because they're not sure they're going to receive the goods and they don't want to give their credit cards or banking information to an online company, why not create a factoring company specifically for online payments? Here's how Sebastian describes the genesis of the firm:
"Niklas [Adalberth] and I were on a trip with the aim to travel around the world without flying, when we got stuck in Australia and had to wait a month for the next cargo ship that would take us to Mexico. Due to the delay, I wasn't able to return on time to continue my studies in 2003. Instead I got a job as a salesperson at a factoring firm, where I started to learn the business. Eventually I started to gain an understanding of online shopping, and I realized that there was a huge difference in how people were paying and how they would have preferred to pay. The company I was working for eventually went bust after I left, but the idea survived and I joined forces with Niklas and Victor [Jacobsson] to start Klarna. At the time, we all were students at the Stockholm School of Economics, which has a business lab that supports students who start companies. The opportunity to join the business lab was too good to pass up, so we presented our idea to them and they urged us to pursue it…..So, we provide after delivery payment solutions for e-commerce. The basic idea is that buying is fun, whereas payment is a nuisance. That's why we want to separate buying from paying, and the one way to do that is to let consumers pay after delivery. In practice, that means that consumers pay via invoice rather than, for example with their credit card at the moment of purchase. For consumers, this implies total safety, as they don't have to pay for anything before they are able to hold the ordered products in their hands. For online shops we provide a full payment guarantee and handle all payment related administration. It's a win-win situation for everyone involved."1

~ Sebastian Siemiatkowski, CEO, Klarna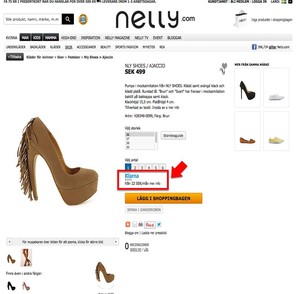 Note Klarna's prominent placement on . This tells customers that they can buy online but only pay AFTER they've received (and tried on) the shoes.
Good Traction Among Online Merchants in 7 European Countries
Klarna's revenues for 2011 were $120 million. Since its inception in 2005, over 9 million European consumers have used Klarna to purchase from 15,000 online merchants in Sweden, Germany, Holland, Finland, Norway, Austria, and Denmark since 2006. That's over 54 million transactions. Klarna is also gaining momentum. Twenty million of those 54 million transactions took place in 2012 with a total value of €1.8 billion ($2.5 billion US). Twelve million of those 20 million transactions occurred in Sweden—in part because Klarna is best known in its home country—but Sweden is also the only country in which the mobile version of the Klarna solution is currently in use, which made it easy for Swedes to...
(Download the PDF for the entire article.)
***ENDNOTE***
1) From an Interview published on Your Hidden Potential on January 31, 2012. http://yourhiddenpotential.co.uk/2012/01/31/sebastian-siemiatkowski-klarna-interview/
***ENDNOTE***
Sign in to download the full article
0 comments