Customer Scenario Mapping
Customer Scenario® Mapping is the best way to prioritize customer-impacting projects and to redesign your processes to improve customer experience. Our proven methodology uses customer co-design to discover and communicate a context-rich set of customers' ideal requirements. There are two big differences between CUSTOMER JOURNEY MAPPING and CUSTOMER SCENARIO MAPPING:
CUSTOMER SCENARIOS ARE SPECIFIC TO CUSTOMER SEGMENTS AND CONTEXTS. Scenarios depict the "jobs" that different types of customers need to do: Plan something; Purchase something; Fix something. Renew or adjust. You typically need at least 3 Scenarios to depict an entire end-to-end customer lifecycle for each customer segment. A typical Customer Journey Map homogenizes all your different customer segments. Using our approach, your target customer groups design their IDEAL experiences for the scenarios that are most important to them. Then, you can aggregate these different experiences to create a high-level Customer Journey Map that will work for all.
CUSTOMER SCENARIO MAPS ARE CO-DESIGNED BY CUSTOMERS. Customers in each segment work shoulder to shoulder with your cross-functional teams and (potentially) your key partners. [If you include suppliers and partners in a customer co-design session, you can design an entire customer ecosystem in 4 hours!]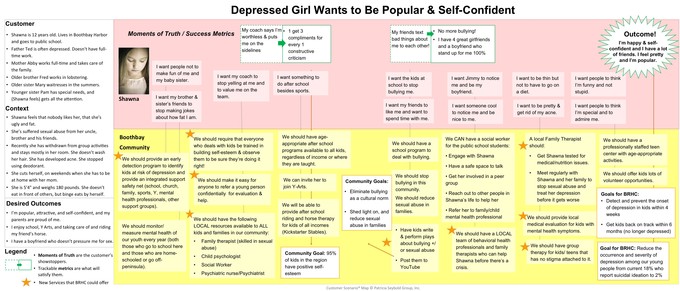 Once you do 2 or 3 Customer Scenario Mapping workshops to gather AUTHENTIC customer requirements and insights based on actual customers' real world issues, you are in a much better position to synthesize the patterns across your different customer segments, lifecycle phases, and moments of truth to create a Customer Journey Map that is truly representative of the Customer Experience Journey your customers will value.
Significant Benefits to Customer Scenario® Mapping
QUICKLY GATHER AUTHENTIC REQUIREMENTS AND PRIORITIES. In the course of a few hours, you can gather SPECIFIC details about what your customers need and how they want to do business with you.
SAVE 6 MONTHS! You cut months of trial and error by prioritizing product/service requirements and business process design based on what you learn from customers before you invest. Customers embrace these new approaches quickly because they're on target.
BOOST CUSTOMER LOYALTY. Customer Scenarios are driven by customers' wants and needs. You focus on what your customers need to achieve. Your company contribute to your customers' success. This ensures their loyalty. Customers who participate in your co-design sessions become your de facto Customer Advisors.
IMMEDIATE PROFITS. Customer Scenario Mapping is a cost-cutting tool as well as an organic revenue growth tool. Customer Scenarios provide clear metrics down a line-of sight starting with what matters to customers. The resulting Customer Experience Scorecards prioritize customer-critical issues and provide a business case hypothesis for each.
IMMEDIATE BENEFITS FOR CUSTOMERS AND PARTNERS: As you prioritize and take actions, customers will begin to see immediate benefits. Your partners will be able to see exactly how they're doing on customer-critical issues.
GAIN NEW INSIGHTS AND INNOVATIONS. Each mapping session - with its interviews, scenario maps, and scorecards - provides deep insights that you're NOT going to discover any other way.
A core competency for customer co-design
For over 25 years, we've evolved our Customer Scenario Mapping methodology and its customer co-design techniques in our consulting practice. Hundreds of client organizations have achieved impressive results with CSM and customer co-design , and many have chosen to train their own people to be CSM facilitators/consultants. For more information, please Contact Us, or call (617) 686-9786..