Being Creative on Zazzle.com
How Easy Is It to Create (and Sell) Your Own Customized Products?
In the world of smart customization, Zazzle.com sets a good example by making it easy for creative customer entrepreneurs to create and sell customized products. Zazzle provides tools and tips for customizing products, creating storefronts, and merchandising your custom designs. However, there are some minor bumps in the road to creating and selling your own versions of products through the Zazzle marketplace.
NETTING IT OUT
Customer ecosystems thrive when customers can both create and sell products within that overall environment. Zazzle.com does a good job of providing tools that make it easy for customers to create customized products out of hundreds of items that Zazzle sells. It then goes the next step and provides tools with which customers can sell these customized products through personalized "stores."
The company also offers tips and tools to help make these customer-created businesses thrive.
There are some bumps in the road to creativity and business building, including some enigmatic options and a lack of help prompts at critical junctures, but, overall, Zazzle makes it easy for creative customer entrepreneurs.
Creating Products with Your Own Images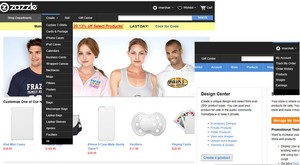 © 2013 Patricia Seybold Group Inc. and Zazzle.com
1. From the create tab, you choose the type of product you want to customize. It would be great to also have an option from this tab to upload multiple images to assign to different products at a later date. You can upload images without assigning them to a product from "My Account."
SMART CUSTOMIZATION OF PRODUCTS FOR FUN AND PROFIT!
Although there are many sites that allow you to customize your own products, from Nike sports shoes to M&M candies to a Chevrolet Malibu, Zazzle.com goes beyond the design element of smart customization by making it easy for customers to build a business based on their creative designs.
Zazzle provides easy-to-use design tools that allow you to add you own imagery and text to hundreds of different types of products you can purchase for yourself or customize for your friends. But equally interesting are the tools that let customers build their own "stores" within the Zazzle site and put their designs up for sale. As you'll see in my evaluation, the store-building process can be a bit confusing initially, but Zazzle does an excellent job of providing business tips and tools (such as a royalty calculator) to help customers create real businesses that can generate significant revenue.
So let's examine the customer experience for building products and creating a business on Zazzle's capable shoulders.
A FUN ETAILING SITE
Thousands of Designs on Hundreds of Products
For the past three years, Zazzle.com has been a primary go-to site for my holiday shopping. I've purchased everything from $3 key chains to a $60 skateboard. The online etailer lets you select from thousands of designs and put them on hundreds of different types of products—a true example of on-demand customization.
The Zazzle mission:
"Our mission is simple: 'To Enable Every Custom, On-Demand Product in the World On Our Platform.' In other words, Zazzle, The Make Engine™, is creating both the tools and the marketplace for anything you can imagine – customized. Simple concept, but very hard to do! (Might want to trust us on that.) The good news: we're getting closer to this reality every single day. And we're having a blast doing it."
Or, as the site's tag line states: "Create amazing custom products with artwork you choose and prices you'll love."
Reusing Images on Multiple Products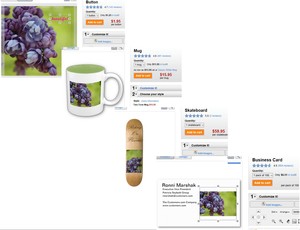 © 2013 Patricia Seybold Group Inc. and Zazzle.com
3. Once an image is saved on the site as part of "My Images," it can be used over and over on any of the Zazzle merchandise.
CREATING YOUR OWN PRODUCTS WITH YOUR OWN ARTWORK
However, although I'm a loyal customer, I have never taken advantage of the most exciting thing about Zazzle: the ability to submit my own artwork and create (and sell!) products with my designs.
So I decided to explore how to do just that. I'm not an artist or photographer, but I have some cool photos from my Goddaughter that would make terrific product imagery. So, with her permission, I set about to create (and, ultimately, sell) my own Zazzle products.
Choosing Products to Customize
The first step to creating a product kind of stumped me. When selecting the "Create" tab from the top navigation bar on Zazzle's home page, I had to pick what item to customize with my own imagery, and that's not easy because there are hundreds of products to choose from. I would have preferred to have the option to upload my image or images to a library I created on the site and then use them on whatever products struck my imagination. I later discovered that I can upload multiple images without attaching them to products through "My Account," (see Illustration 1) but, at the "Create" starting point, I don't have that option. Once you upload an image, though, it stays as part of "My Images" and can be used on other products.
The Customization Process
Once I chose my item to customize (a note card), it was very easy to do the customization. Zazzle provides a simple "wizard"-like process (download the PDF to see Illustration 2) where you…
(Download the PDF to read the entire article.)
Sign in to download the full article
0 comments