My 2013 Holiday Customer Experience Heroes
Lessons to be Learned from Customer Support at Small Companies: Standing Stone Farms and Geoff & Drew's
Small businesses often provide the best customer experience because they offer a personal experience. Two such companies, Standing Stone Farms and Geoff & Drew's, made sure that this customer was not just satisfied, but delighted. What can your organization learn from the support practices of these small companies?
NETTING IT OUT
Regular readers will know that I have had one heck of a time with my holiday shopping. Merchandise not delivered and customer service runarounds have wasted both my time and money.
But two small companies, Standing Stone Farms and Geoff & Drew's, both discovered via daily deal offers, have restored my faith in customer service.
Large organizations can learn some valuable lessons and should attempt to emulate these small businesses by doing the following:
Create a brand personality with which customers can identify and want to do business
Provide names of people to contact within your organization when help is needed
Allow customers to respond to email by eliminating "noreply" communications
Providing a phone number to call
Respond quickly to questions and concerns
Fulfill all promises
DAILY DEALS OFFER DISTINCTIVE GIFTS
Failed Result, but Gift Inspiration from kgbdeals.com Offer
I was tired of giving the same old things: gift cards, sweaters, books. But googling "unusual gift ideas" yielded too many results, and some of the ones I pursued weren't all that unusual (handmade scarves—beautiful, but not "unusual"), were way out of my price range (a Labyrinth Aquarium, $65,000, but with free shipping!), weren't on target for my recipients (a tour of Boston Graveyards), or were just plain creepy (a severed horse head ornament)!
Mostly, however, I just gave up surfing the over 4 million links that Google provided because I have a life!
Surprisingly, I found inspiration, and money-saving deals, through some of my daily deal emails. The first gift idea I found was a set of personal fondue mugs (see Illustration 1), offered by kgbdeals.com, to be purchased via voucher from GoodEve LLC. The idea was great, and appropriate for several family members. Unfortunately, GoodEve didn't come through, and kgbdeals, after trying to help expedite the situation, refunded my money. (I documented the experience in a Customers.com Forum post on December 6.)
But simply finding out about the fondue mugs led me on a directed search for them from another source, and, sure enough, I was able to purchase them through Amazon.com.
Personal Fondue Mugs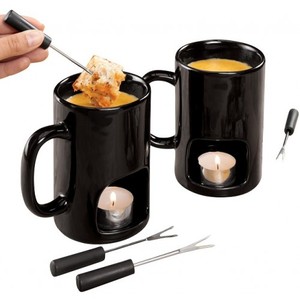 © 2013 GoodEve LLC
1. These personal fondue mugs are just different enough to appeal to a number of my friends and family members (I hope some of them don't read this before Christmas—the ones who got theirs for Hanukkah were all delighted).
Standing Stone Farms Customer Service Is Personal and Responsive
I found my next inspiration via LivingSocial.com. Amidst the offers for restaurants, balloon rides, and remote car starters (gotta get me one of those!), I was presented with a Do-It-Yourself Cheese Making Kit and training video from Standing Stone Farms. What an unusual gift! And perfect for my chef-in-training niece!
According to its website,
"Standing Stone Farms is an Irish boutique dairy goat farm located in Middle Tennessee. We specialize in raising and breeding happy, healthy, registered Nubian dairy goats with high milk production, that are also people friendly. Standing Stone Farms offers a variety of cheese making classes both on and off the farm which cater to both adults and children…

Before our Cheese Classes came our lovely herd of beautiful Nubian Dairy Goats. [See Illustration 2.] We breed and raise our Ladies for both show and milk…

Standing Stone Farms is owned by Paula Butler and together with her daughter, Jennifer they manage the Nationally recognized herd of Nubians as well as run the Cheese Making School… When not busy being a wife and mother, Paula spends most of her time teaching cheese making and working on new cheese recipes. In her free time she enjoys hanging out with her family, her beloved Labs and goats, French cooking and always enjoys a good glass of wine on her deck!"
Standing Stone Farms DIY Kits and Herd of Nubian Goats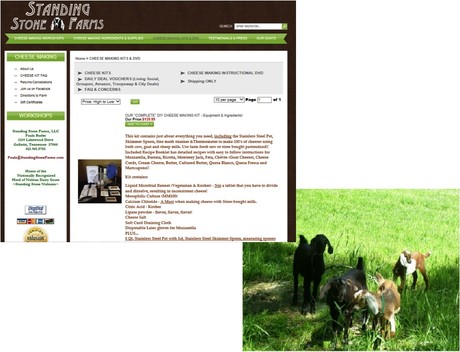 © 2013 Standingstonefarms.com
2. The Cheese Making Kits from Standing Stone Farms features products made from the milk of the farm's herd of Nubian goats, known for their outstanding ability to produce sweet, rich-tasting milk.
A MERCHANT WITH A PERSONAL IDENTITY. Aside from offering an unusual gift, I was impressed with the personal brand identify of Standing Stone Farms. The "about us" section of the website makes it clear that this is a family business and a labor of love. Owner Paula Butler offers a peek into her lifestyle, and I can just picture her with her dogs and goats sipping her wine. It makes me want to do business with her.
But all the warm fuzzies in the world won't keep me as a customer if the service isn't excellent. Happily, customer service from the farm was terrific…(more)
(Download the PDF to read the entire article.)
Sign in to download the full article
0 comments