Recommendation Engine Market Survey
B2B Is a Strong Market, and People Are Ready to Adopt
Our survey on the market for recommendation engines, developed in collaboration with the Institut Telecom of Paris, uncovered a few surprises. Foremost among them: B2B is a strong market, and almost half of respondents plan to deploy recommendations by 2011.
WHAT IS A RECOMMENDATION ENGINE?
Recommendation engines are emerging as top marketing and publishing tools for all types of businesses. The technology is being used to personalize communications, improve site search, lift productivity, and drive conversion.
A recommendation engine suggests items (such as articles or products) or personalizes content that is viewed by online users.
Recommendation engines can be used to:
Create a personalized experience for a user or segment
Suggest additional products based on buying patterns from the community (i.e., users who bought this product also bought this product...)
Display adds (banners) that are more likely to be relevant for a specific user or a group of users based on their profiles (e.g., the site will not display an add for a dress to a male user)
Create a personalized commerce site tailored to each customer relationship, (e.g., the car owned, the sports played, the machines managed)
Provide a personalized view of the corporate intranet
Create a personalized support portal to the corporate help desk
Tailor content that is featured in emails or shown on the site (ex: create a personalized newspaper)
The purpose of the survey was to research goals, capabilities and accomplishments for recommendation engines.
Are you familiar with what a recommendation engine can do? Recommendation engines are sometimes called collaborative filtering.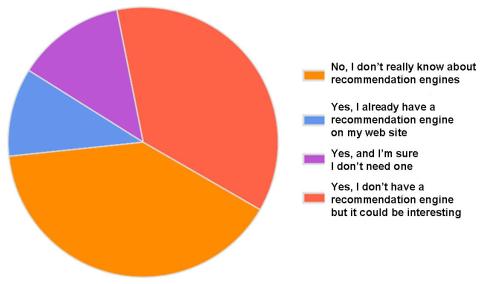 © 2010 Patricia Seybold Group
SURVEY HIGHLIGHTS
In January, we released a survey on the market for recommendation engines. The survey was developed in collaboration with the Institut Telecom in Paris. We had approximately 100 respondents to the three versions of our survey. This report summarizes the findings of the survey.
Few Current Users, Many Ready to Adopt
Roughly 10 percent of our respondents already use a recommendation engine. Of those not currently using a recommendation engine, a quarter plan to deploy this year, and another 20 percent plan to deploy in 2011. So it seems that about half of our respondents are pretty hot on the idea of recommendations. Quite a few were warm but not exactly hot: 38 percent were not sure when they would deploy recommendations. No one chose "never" as their timeframe. Retailers unanimously chose 2011 for deployment.
B2B a Strong Market
Fully 48 percent of our respondents are interested in deploying recommendations for a B2B ecommerce application. Thirty-five percent indicated that they would use recommendations on a B2C site. Only 19 percent were interested in applying recommendations to a corporate Web site.
The top three purposes respondents chose for recommendations engines were:
Up-selling for an ecommerce site
Content personalization
Personalizing ads
These three purposes could be addressed as separate markets by recommendation engine vendors.
Revenue, Acquisition, and Customer Satisfaction: the Goals
We asked a lot of questions about what recommendations are for. The answers, not surprisingly, centered on revenue (63 percent), customer acquisition (55 percent), and customer satisfaction (80 percent). In North America, employee productivity was also an important goal for 50 percent of respondents. In Europe, it was important to no respondents. Retailers are more focused: they had one goal, and it was revenue...
Sign in to download the full article
0 comments