Treating Your Customers with Respect
Provide Concerned, Engaged, and Accurate Customer Service or Risk the Customer Relationship
The difference between a great customer experience and a disastrous one is treated how the customer is treated after presenting a problem to the provider. In the examples in this article, the caring attitude and follow through demonstrated in the successful experience shows how to recover from a product issue. In the disasters, the provider's representatives either seemed to blame the customer or left the customer totally in the dark.
It is very important to recognize the intrinsic value of every customer—whether they are buying high ticket items or are bargain shoppers; whether they fall into your sweet spot demographically or are not your usual prospects; whether they are regular customers or just happened upon your product/services; whether they are asking simple questions or pointing out errors in the way you are conducting business.
In this article, I look at three different customer experiences—two disasters and one delight. The difference was in how the customer was treated after presenting a problem to the provider: the caring attitude and follow through demonstrated in the successful experience shows how to recover from a product issue. The disasters either seemed to blame the customer or left the customer totally in the dark.
Expressions Partners with Savings Ace for Rebate Offer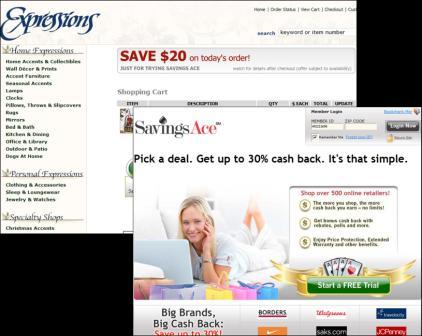 © 2010 Patricia Seybold Group
Illustration 2. During check out, Expressions offered a $20 rebate for trying Savings Ace. Notice that the Savings Ace home screen does not provide any details on the service; there are no clickable links—you have to sign up for the free trial first!
TREATING FORMER CUSTOMERS RUDELY: SLING MEDIA REFUSES TO ANSWER SIMPLE QUESTIONS ABOUT THEIR PRODUCT
Trying to Connect My Slingbox to a New TV
About three years ago, I purchased a Slingbox system from Sling Media for about $300. This combination of a box attached to my DVR and software downloaded onto my laptop computer allows me to watch my own television stations, as well as to access my DVR and all recorded shows on my laptop anywhere I have Internet connectivity. For TV addicts like me who travel a lot, the Slingbox has been a terrific purchase.
And I am a confessed TV addict—yet I haven't kept up with the technology. The television I watch most often has only a 19-inch non-flat screen (big and heavy) and, for the past year, no longer showed any green. Grass was an odd shade of aquamarine, and people's lips tended to look like they were bleeding.
Finally, a few weeks ago, I joined the new millennium and purchased a 32-inch high definition flat screen TV. I love it!
A QUESTION ON HOOKING UP SLINGBOX. As I awaited the delivery of the new television set, I wondered if my Slingbox would work with my new HD TV. I looked online to see if there were any special instructions for hooking up my Slingbox unit. I searched on "Connecting to HD TV," and got 95 potential responses (See Illustration 1.) I selected the third choice, "HD content not available when HDMI cable is not…" as it seemed like the most likely answer to my question. The response (see, again, Illustration 1) stated that I needed an HD Connect Cable from Sling Media. At least, that's what I think it said. But I wanted to know if my current system would work if I didn't care if I saw things in HD on my Laptop.
I then searched for HD Connect Cable, and got another long list of potential responses, none of which was how to buy the cable. I kept trying to find information on how to purchase the cable, but couldn't find anything.
At this point, I decided to call Sling Media support to answer the simple question of whether my current Slingbox would work with my new TV and, if not, how to make it work.
Support NOT Supportive!
Imagine my dismay when I spoke to a customer service representative to ask my simple question and he refused to answer! It seems as if I no longer had a service agreement—it had expired—and I would have to pay $29 just for him to tell me yes or no to find out whether my Slingbox would work with the HD TV. Charging money for a yes or no answer to an existing customer was not a smart move. If the process was complicated, I would happily pay the fee for the help to make it all work. If the answer was no, I would pursue whatever action recommended, and probably purchase an upgrade. So the payoff for Slingbox was in the upsell/cross-sell opportunity.
But the rep refused to even answer yes or no. I wasn't going to pay a fee to find out there was nothing I could do but spend more money to buy a newer system.
I explained this, but the CSR still refused to answer the simple question. And he was rather rude about it. He just kept saying, "It is policy." No empathy, no acknowledgement that he'd like to help. Just a stone wall.
Sales More Helpful but Still Didn't Answer the Question
I called Sling Media sales to find out if my Slingbox would work with an HD TV as is, or if I needed to purchase the HD Connect cable and, if so, how the heck did I do that.
Sales again wouldn't—or couldn't, I'm not sure which—tell me whether my TV and Slingbox would work together unadorned. And, when I inquired about the cable, I was told that they no longer provided them, although I could buy one used on Amazon.com for about $110. Or I could buy a new system to be fully HD compatible. Happily(?!) the new system was only $150.
Again, I asked what would happen if I just connected my current equipment. "Sorry, I can't tell you. You can try support." Yeah, right. But at least this guy was fairly nice about it.
Tried It Anyway
Of course, now I'm very frustrated. I decided to wait until the TV was delivered, do the install myself (well, with the help of a friend who is good at this sort of thing) and see what happened. If the Slingbox stopped working or somehow interfered with my HD reception, then I'd do the painful upgrade.
A (SOMEWHAT) HAPPY ENDING. Turns out, everything worked just fine as is. Sure, I'm not getting a high-def experience when I watch online, but that's okay. The TV works beautifully; the Slingbox works fine; and I didn't have to pay anything extra.
However, I was a big fan of Sling Media and had recommended the Slingbox to many people. I'm now not a fan and, see, I'm sharing my story. This isn't good for the brand.
Lessons to Learn
There are a number of places that Sling Media policies led to a very bad customer experience...
Sign in to download the full article
0 comments